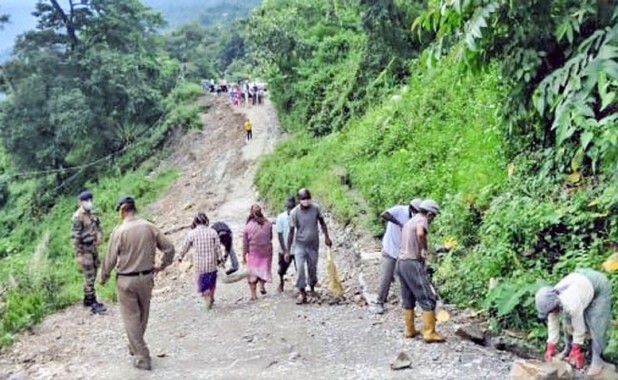 Slide snaps Rorathang-Rangpo road
SANJAY AGARWAL
RANGPO: A major breach at 4th Mile Bhasmey along Rorathang-Rangpo road has snapped connectivity of the border town with several villages in east district.
The road has been disrupted after at least 110 metre stretch of the road was washed away by heavy rains on Wednesday. Commuters are walking through the slide to reach the other side of the road for their onward journey.
The road disruption has affected movement of people and goods of several pharma companies, hydro power projects, armed forces and other industries in the area along with daily commuters. The slide is also a threat to around 10 houses in the locality.
Today, a team led by Rangpo SDMHimmatRai, SKM Drivers Front functionaries and local panchayats visited the spot to take stock of the situation.
The SDM informed that a survey report would be submitted to the higher authorities for taking appropriate action to restore connectivity.