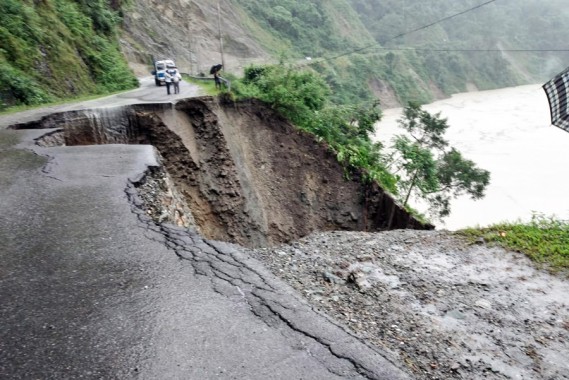 Thursday, Sep 24, 2020 10:45 [IST]
Last Update: Thursday, Sep 24, 2020 05:05 [IST]
Slides block highway to Sikkim, Kalimpong
SE Bureau
DARJEELING/ RANGPO: Incessant rainfall since Tuesday night caused landslides in different places in Darjeeling hills with a major slide occurring at Seti Jhora about 40 km from Kalimpong town where about 100 metre stretch of NH10 has collapsed. It may take some days for the road to be restored for normal vehicular movements, sources said.
The landslide has disrupted connectivity to Sikkim and Kalimpong from Siliguri and the rest of the country. On Tuesday, the road was closed for over 12 hours due to another landslide at 29th Mile area near Teesta. Another slide has also occurred near Kali Mandir along Sevoke road with debris and rock falling on the road.It was expected to be opened by late today evening.
"Due to the extensive damage caused to NH10, the goods vehicles movement between Siliguri and Kalimpong and Sikkim are affected. Small vehicles are diverted through different routes through Darjeeling and Kalimpong districts.Road restoration for allowing heavy goods vehicles would take some time as informed by PWD," said a senior police official from Kalimpong.
As an emergency measure, heavy goods vehicles below 10 tonnes shall be diverted through Coronation Bridge- DamDimMore-Gorubatan-Lava route onward to Kalimpong or Rangpo (via Bhalumarg) and back. However the existing load limit of 10 ton on Coronation Bridge is to be followed by such vehicles, the official added.
In Darjeeling, though no major landslide or casualties were reported, some houses and minor roads have been damaged. At Eden compound, locals said a landslide has caused threat to some houses.
Road connectivity to Sikkim remained crippled for several hours since Tuesday due to several landslides and damage in road formation along NH10. The highway was briefly open for some hours on Tuesday evening before being blocked again due to multiple slides at near Kali Mandir, Seti Jhora and 29th Mile. Local authorities have deployed men and machinery to clear the debris.
Passenger vehicles and good carriers are taking a detour via Teesta-Peshok road to reach Sikkim from Siliguri. Meanwhile, a loaded truck plying towards Sikkim from Siliguri tumbled near 29th Mile area on the West Bengal side. No casualty has been reported so far.
On the Sikkim side of the border, the NH10 was blocked at two places between Rangpo and Singtam halting traffic for over an hour this morning. The road was later cleared for vehicular movement.