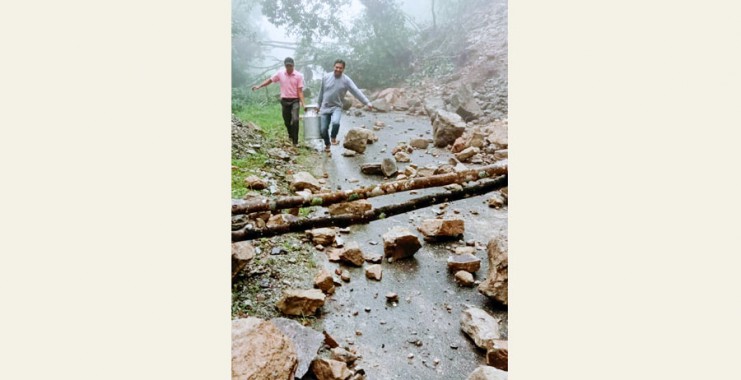 Saturday, Aug 01, 2020 14:15 [IST]
Last Update: Saturday, Aug 01, 2020 08:16 [IST]
Slides, lockdown hit SMU milk procurement and supply
KUNAL RAI
GANGTOK: Landslides triggered by incessant rain, containment zones and the fresh phase of coronavirus-induced lockdown in the State have severely hampered the milk procurement and supply chain of Sikkim Milk Union (SMU), causing shortfall of milk and milk products in the capital.
A senior Milk Union official said vehicles carrying milk collected from the farmers are unable to reach the diary plant here at 5th Mile due to road blockades caused by landslides at multiple places. Also, several milk producer cooperative societies fall under containment zones after report of Covid-19 cases from the areas. Milk producers from such areas have discontinued collecting and supplying milk to the union owing to the restrictions and as a precautionary measure.
Similarly, villagers in several places have restricted movement of vehicles and people to avoid spread of the infection and have strictly followed lockdown protocols issued by the government. The system is likely to fall in place once the situation improves, it was informed.
The SMU dairy plant also stands as vulnerable area since more than 50 vehicles report at the unit carrying milk from the villages. "Though we are abiding to all necessary protocols issued by the government, we had closed the Gangtok plant for sanitization and now we plan to sanitize Jorethang plant too soon. We are taking all hygiene related steps to keep the unit and its employees safe from the virus," the official added.
The SMU appealed to the consumers living in green zones to bear with the temporary unavailability of milk due to the short supply and suspension of dairy operations for some days. Once the situation normalizes, adequate supply of milk will be ensured like earlier days, the official maintained.