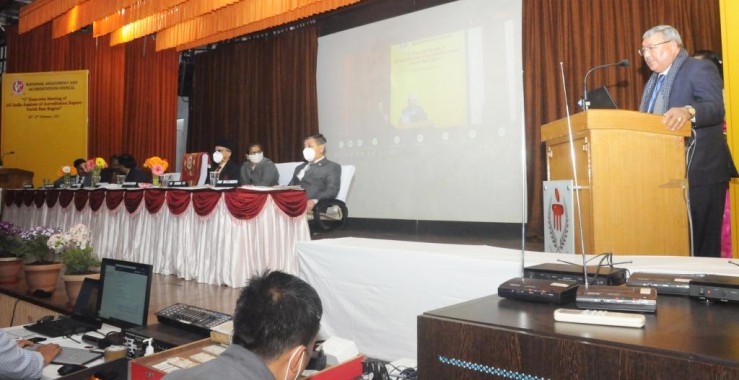 Friday, Feb 26, 2021 07:45 [IST]
Last Update: Friday, Feb 26, 2021 02:03 [IST]
SMU hosts NAAC meeting for NE region
ISABELLA GURUNG
GANGTOK,: The first zone-wise meeting for North East region of the National Assessment & Accreditation Council (NAAC) with the theme 'All India Analysis of Accreditation Report' was inaugurated by Education minister Kunga Nima Lepcha at the auditorium of Sikkim Manipal Institute of Medical Sciences (SMIMS), at 5th Mile here today.
During the three-day meeting, a panel of NAAC experts, deans, directors, principals of various colleges and universities of the Northeast region will have a first-hand interaction to understand the challenges and file a report based on the inputs. The meet also aims at providing a platform to seek clarification by non-NAAC accredited colleges/universities.
"NAAC, having it's headquarter in Bengaluru, was established in 1994 as an autonomous institution of UGC. The idea behind the creation of NAAC was to set up a benchmark of higher education in India by way of assessment in a transparent way through combination of self and external quality education. In Sikkim, out of the 12 government colleges, six are already accredited by NAAC, which makes 50 per cent," said Lepcha.
"The ecosystem of higher education in India is of utmost importance as it prepares students for a meaningful and cooperative role in the society. Apart from making them competent, it also plays a crucial role in making them responsible citizens who are ready to work in a multi-cultural globalized environment. Thus, the role of NAAC for their accreditation system has assumed important. It is because of this very reason that I feel privileged that Sikkim is hosting the crucial meet," the minister added.
Regarding the publication of 'All India Analysis of Accreditation Report', Lepcha said he is confident that the publication will go a long way in empowering the higher educational institutions to assess their strength, weakness, opportunities, challenges and in identifying internal areas for improvement by way of planning and resource allocation.
The minister urged the heads of institutions to actively participate in the meet and submit inputs.
"I am very confident that the entire higher education fraternity of Sikkim and the North Eastern Region shall immensely benefit from the discussions and deliberations during this meeting in terms of setting benchmarks, improvement of their infrastructure and developing an environment of healthy competition," Lepcha said. He also expressed his hope that more HEIs from Sikkim opt for accreditation with NAAC in the near future.
NAAC director S.C. Sharma, who attended the inaugural session virtually as the guest of honour, informed that NAAC has accredited more than 600 universities out of around 1,000 universities and 13,000 colleges out of 14,000 colleges in India.
Education department ACS G.P. Upadhyaya said the concept of NAAC came to Sikkim a few years back and the State was associated with the RUSA scheme since 2014. He urged the council to give a thought about the Northeastern States as, he said, the institutions in the Northeast lack good teachers especially in Science and Mathematics and also various aspects that the institutions in other parts of the country are benefitting. He also informed that Sikkim is trying to establish a new centre for climate change and also aims at establishing an institute with international faculty and students.
NAAC academic expert Dr. S. Srikanta Swamy gave an overview of the All India Analysis of Accreditation Report. The State-wise analysis had been divided into seven chapters i.e. introduction, about NAAC and quality assurance, accreditation process, quantitative analysis, qualitative analysis, findings and recommendation and road ahead, he informed.
NAAC senior communication and publication officer Dr. Wahidul Hasan highlighted the overview of the programme. He informed that 50 State-wise reports have already been published with the last one being Odisha. He also stated that the report will also be sent to the Education department and urged the minster to help in formulating the report.
Earlier, in his welcome address, SMU vice chancellor Dr. (Lt. Gen) Rajan S. Grewal, expressed his gratitude to NAAC for selecting SMU to host this first zone-wise meeting focused on the North Eastern Region. He said this report will enable all NE States, universities and higher educational institutes to sharpen their future endeavours towards quality assurance and enhancement to create an efficient and progressive ethos in higher education. He highlighted the importance of a fair, credible and objective benchmarking of quality as an implicit and natural element of education and research.
The SMU vice chancellor emphasized on the contextual relevance of quality of curriculum, teaching learning interface, research, invocation, student support and governance as distinctive indicators of standards in enhancing quality and accreditation frameworks.
The interactive session of the meeting held today facilitated an exchange of viewpoints, progressive ideas and way forward with special reference to enhancing quality of higher education in the North eastern region.
SMU registrar Prof. (Dr) Karma Sonam Sherpa delivered the vote of thanks.