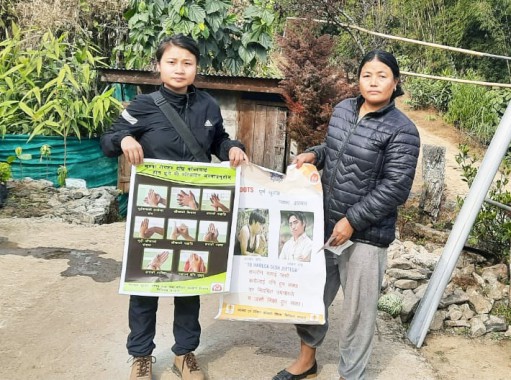 Thursday, Jan 14, 2021 07:45 [IST]
Last Update: Thursday, Jan 14, 2021 02:02 [IST]
Solo walk to spread TB awareness in remote West villages
BIJOY GURUNG
GANGTOK,: Few people walk the talk, especially on social issues. While some have not finished talking, Neha Rai, 20 years, has almost completed her solo walk across 15 remote West Sikkim villages.
The girl from Rabongla is on a TB sensitization mission since Monday among the villagers of Dentam and Uttarey areas, close to the Indo-Nepal border of western Sikkim. On Thursday, she would be trekking uphill to Lingey, the last settlement of Uttarey from Chewabhanjyang side to complete her personal initiative.
"Sensitization campaigns and public awareness drive regarding Tuberculosis (TB) are regularly held in urban areas. However, it is seen that awareness campaigns are not strongly held in remote rural areas and villagers there lack proper knowledge regarding TB. The State government is working to make Sikkim a TB-free State by 2022 and for this, rural populace must be sensitized," said Neha on why she walked.
Neha was speaking with SIKKIM EXPRESS over phone from Uttarey bazaar on Wednesday afternoon. She had just walked downhill after completing an awareness drive at Kumuk Sepi, one of the last villages of Uttarey.
Neha had stepped out of her house on Monday with a rucksack loaded with awareness materials like posters and some personal items. She walked down from Rabongla to Legship and then upwards to Geyzing. Along the route, she shared information related with TB with the people she came across. She halted at Begha which falls between Dentam and Uttarey.
Next morning, Neha resumed her awareness campaign targeting seven villages each day. She starts her walk at around 7 pm and ends her day by 5 pm as darkness falls. At each village, she interacts with the villagers, school students and panchayats about TB, its symptoms and treatment process besides distributing the awareness posters and pamphlets.
Asked about her experience, Neha said: "Some villagers are not aware of TB symptoms and what to do next if they get TB. I inform them about the symptoms and the treatment process. I also share them the helpline numbers where they can get support and consultation."
"During my campaign, I am also making a list with details of persons who are suffering from TB or have symptoms. There are some who may have TB but cannot go out for consultation or treatment because of financial reasons. I am also collecting details of such persons," said Neha.
The list, it was informed, would be submitted to Stars Of Hope (SOH), a Sikkim-based national registered NGO that works on the fields of education, health and environment.
The organisation founded in 2015 also does charity works and it had provided the IEC materials to Neha for her initiative, said Bikash Thapa, SOH founder-cum-chairman.
Neha is also a SOH volunteer and a part of JEET 'Joint Effort to End TB', an initiative of SOH supported by the State TB Cell.
Thapa informed the SOH will work on the feedback provided by Neha and help those persons suffering from TB. We will reach out to the needy person and provide help, he said.
People have been appreciative of my initiative and they give time to what I have to share regarding TB at their villages, said Neha.  She would be wrapping up her campaign on Thursday. She plans to then undertake another solo trek but this time, it would be a personal indulgence before returning home.
"Actually at first, I had wanted to go for a solo trek of three days. But then I thought that it will only benefit me. So I took up this awareness campaign as I would be walking and doing something for the society at the same time. It will also help me to tour and understand the villages of Sikkim," said Neha.
During her walk in unknown villages, Neha was happy to note that one traditional rural custom of Sikkim is still practised.
"In earlier times, we used to have this beautiful custom of 'Bash Dinu' (offer shelter for the night to a traveller). Not many do this at present for various reasons including Covid. During my campaign, I seek for shelter for the night wherever it is offered and I am happy to find such hospitality every night during my campaign," said Neha.
Neha was given 'Bash' at Begha on the first night, dinner and lodging at Gumpa Dara the next evening and at another village for Wednesday night.