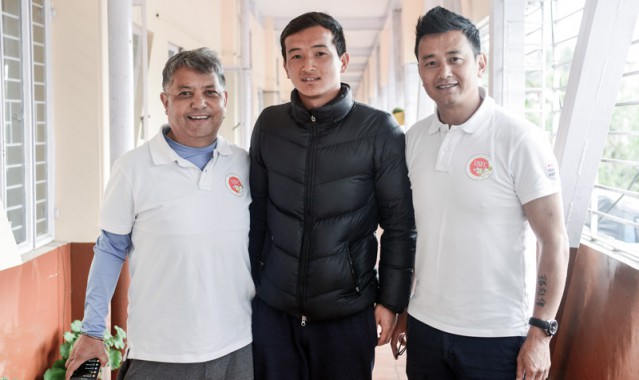 Sunday, Mar 15, 2020 14:15 [IST]
Last Update: Sunday, Mar 15, 2020 08:40 [IST]
SonamZangpo, Karan Rai to attend East Bengal trials
BIJOY GURUNG
GANGTOK: SonamZangpo Bhutia from Sikkim and Karan Rai from Siliguri would be reaching Kolkata on Sunday to attend a selection trial with the famed East Bengal FC. Their selection trial has been facilitated by former Indian football captain Bhaichung Bhutia.
SonamZangpo, 27 years, is a stopper while Karan, 24 years, is a striker. Both used to play for United Sikkim FC, a club owned by Bhaichung Bhutia.
"East Bengal is looking to build a new squad for the coming I-League season and as such, they are looking for young and fresh talents. I got in touch with the club for sending players from the hills for the selection trials. My best wishes to both SonamZangpo and Karan. We are hopeful to send more players from here for the selection trials in Kolkata," said Bhaichung to media here today.
SonamZangpo is from NaveyShotak, near Penlong in East Sikkim. He has played for local clubs in Sikkim and also for clubs outside the State.
"It is a big thing for me to get the opportunity to attend the selection trials of East Bengal FC. I am thankful to Bhaichung Bhutia for giving me this opportunity. I will give my best at the trials and look for a positive outcome," said SonamZangpo.
Bhaichung will be accompanying the two footballers to Kolkata on Sunday. He informed that SonamZangpo and Karan will be training with East Bengal for 15-16 days.
United Sikkim FC senior manager ArjunRai informed that the club has been giving platform to football talents of Sikkim so they can play in clubs outside the State. He mentioned that the club had sent two players Nima Sherpa and Roman Subba for trials with Hindustan Aeronautics Limited SC, Bengaluru. They are now playing with Hindustan Aeronautics Limited SC in Bengaluru league, he informed.