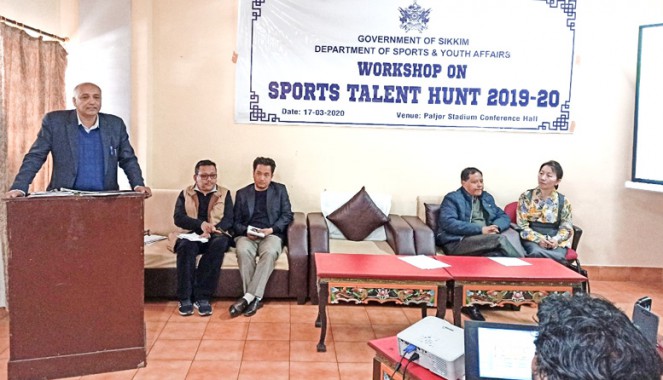 Thursday, Mar 19, 2020 14:30 [IST]
Last Update: Thursday, Mar 19, 2020 08:58 [IST]
Sports talent hunt postponed
SE Report
GANGTOK: Ahead of the launch of State-wide sports talent hunt, State Sports department held a workshop for Sports officials, physical education teachers and coaches who will be involved in conducting the programme across the four districts.
The workshop held at Paljor Stadium here was chaired by Sports secretary Kuber Bhandari.
Deputy director (HQ) C.L. Rai explained the concept and methods to conduct sports talent hunt. He briefed that this scientific approach will have selection done in three stages, namely, Block level, district level and state level.
A total of 160 (82-boys and 78 – girls) talented children who scores maximum points will be shortlisted as per ranking. These selected children will be identified for 13 different sports disciplines by the committee of experts at the State level.
Some of the high ranking children will be inducted in State sports academics as per vacancies in selected sports discipline. The rest of the children will be given sports scholarship/incentives and will be attached to the coaches of respective sports discipline for further training.
The Sports secretarycongratulated all the members of Sports department for the successful conduct of Rural Sports I and II. He thanked them for their hard work and dedication towards the departmental programme. He further suggested that all the members should take precautionary measures in their respective places regarding prevention of coronavirus.
Further, Bhandari directed to postpone the conduct of sports talent hunt which was scheduled to be held from March 23 to April 9 and Khelo India Girls League Tournament due to coronavirus fear and directives of State government.