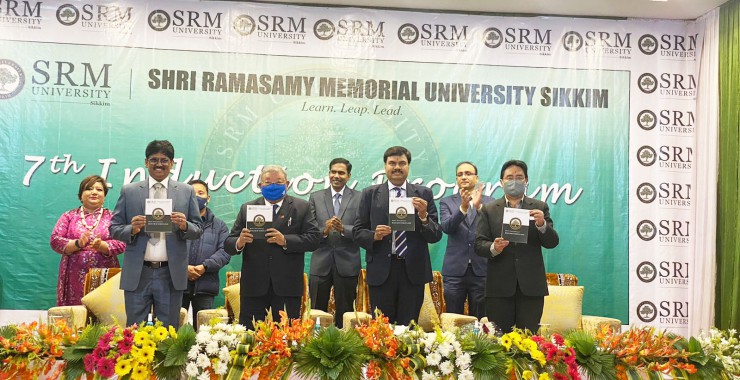 Saturday, Nov 13, 2021 07:45 [IST]
Last Update: Saturday, Nov 13, 2021 02:14 [IST]
SRM University conducts 7th induction programme
ISABELLA GURUNG
GANGTOK,: Shri Ramasamy Memorial (SRM) University, Sikkim conducted the induction programme of the first year students for the academic year 2021-22 at a local hotel here today.
The programme was graced by Education minister Kunga Nima Lepcha as the chief guest.
Stating that this is his second time attending the induction ceremony of SRM University, the minister thanked vice chancellor Prof. Ch. Satish Kumar for taking the initiative of promoting higher education in Sikkim. He expressed that he is privileged to attend the event along with highly qualified scholars from the university.
"The world has become highly competitive, so students, be bold and live up to the challenges. Convert all your problems into solutions and become what to become so that you can lead the country in the right path. SRM has a status of excellence and the VC has been the perfect mentor," expressed the minister.
Lepcha further urged Sikkimese people to be polite and hospitable to the students who have come from different States to study in SRM University. Exchange ideas, foster friendship and counter challenges together, he said.
Education ACS G.P Upadhyaya shared memories from his university days and highlighted the importance of working as a team and appreciating others. He also shed light on the State government's initiative of improving the status of education in Sikkim and the various education funds and schemes under the State government.
During the event, the first research series 'Multidisciplinary Research Series 2020' written by the faculty and students of SRM University was also launched by the Education minister.
VC Prof. Satish Kumar thanked the State government for providing the support and guidance. "It is the collective efforts of the State government, students and faculty in making SRM an excellent university. SRM has good teachers with not just doctorates but the ones committed to grooming students," said the VC.
The VC also informed that from next year, the research series will have three books in three disciplines and will also be available for school and college students and teachers and the best ones will be published in the journals. The main intent is to capture intellectual talents, he said.
Regarding the National Education Policy (NEP), Kumar informed that the syllabus will soon be changed according to NEP. He also highlighted the various placement programmes of SRM.
The university also provided scholarship awards to students in three categories i.e. outstanding students, employees ward and financially challenged students. The scholarships included 100 to 50 per cent fee waiver.