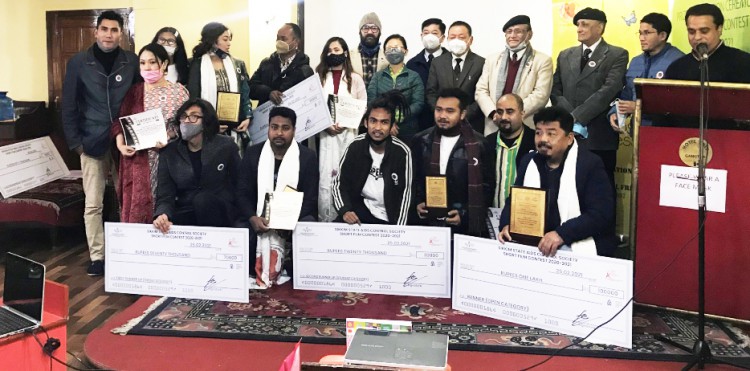 Friday, Feb 26, 2021 07:30 [IST]
Last Update: Friday, Feb 26, 2021 01:59 [IST]
SSACS awards short film contest winners
DICHEN ONGMU
GANGTOK,: Sikkim State AIDS Control Society (SSACS) on Thursday handed away prizes to the winners of a short film contest organised by the society to generate AIDS awareness.
'Jeewan' directed by Dilip Rai won first prize in open category and 'A Silent Diary' by Amon Rai was the best among the student participants.
Likewise, 'Pretty Woman' by Dipankar Ratna Sakya and 'Awareness starts at Home' by Biswas Timshina grabbed second and third position respectively in open category.
In students' category, 'HIV sanga ko Jiwan' and 'Bhagya ko Vidambana' were adjudged second and third respectively.
The winners were awarded certificates and cash prizes.
Health department advisor K.B. Gurung, who was present as the chief guest, said awareness is the key to control AIDS in the society.
Health principal director Dr. Tshering Laden appreciated the films for their "lasting messages".
SSACS project director Dr. D.S. Kerongi informed that the short film contest had received a total of 46 entries across two categories.
The judges were filmmakers Dawa Lepcha and C.L. Ghimirey, NE Film Censor Board member C.P. Giri, Sikkim Film Co-operative Society president Deependra Mohra and Dr. Kerongay.