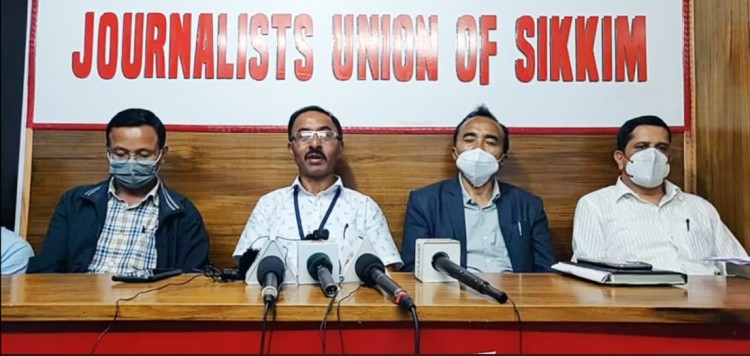 Saturday, Sep 11, 2021 05:30 [IST]
Last Update: Friday, Sep 10, 2021 23:50 [IST]
STA appeals adhoc teachers to withdraw dharna, says protest sending "wrong message" to society
GANGTOK,: The Sikkim Teachers Association (STA) on Friday appealed the protesting adhoc teachers to withdraw their dharna-hunger strike and to sit for a dialogue with the State government.
A group of adhoc teachers are on a dharna and indefinite hunger strike since last Thursday near the East DAC complex, Sichey. They are demanding service extension for the adhoc teachers till interviews for new adhoc appointments – scheduled to start from October 3 - are completed.
Addressing a press meet here, STA president K.B. Bhandari urged the protesting adhoc teachers to leave the path of protest and come forward for talks with the State government to resolve their issues. He added that teachers must not go against the STA constitution and to accept the policy placed by the government as being government employees they must work as per service rules.
"We are not in favour of anyone, neither the government nor the agitating teachers. All we want is to be a bridge between them and the government to resolve the issue at the earliest for their welfare at large", Bhandari added.
Bhandari mentioned that teachers are a role model of the society. By staging such protests, we are disrespecting our profession and sending a wrong message to the society, especially our students who might end up following their footsteps in future, he said.
The STA executive members informed about the dialogue they had with the protesting adhoc teachers on September 8.
"We tried our best to make them understand the long term benefit they will gain from the new policy regarding appointment of adhoc teachers. After talking to them, we realized that they are confused as on one side, they are demanding extension and on the other side, they express concern towards the students. If they are really concerned about the students' future then we suggest they take classes voluntarily till their interviews are conducted," said the STA executive members.
The association suggested the protesting adhoc teachers to accept the new policy framed by the State government in the larger interest of adhoc teachers instead of sticking to the service extension demand.
The STA executives maintained that the new policy has been framed to do away with the annual extension culture and regularize the job of adhoc teachers after eight years of continuous service after clearing a one-time interview.