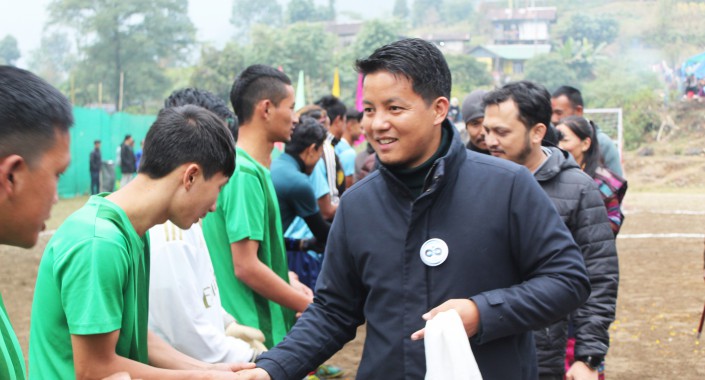 Wednesday, Nov 24, 2021 08:00 [IST]
Last Update: Wednesday, Nov 24, 2021 02:24 [IST]
State committed towards development of sports sector: Indra Hang
PRITAM LAMA
YUKSAM,: The on-going Gold Cup futsal tournament at Yuksam had Member of Parliament (Lok Sabha) Indra Hang Subba as the chief guest today and Futsal Association of Sikkim president Dr. Remon Chettri as the guest of honour.
Indra Hang Subba, in his address, said Sikkim is known for football and the State government is committed towards development of sports sector along with other sectors.
Highlighting the recent developments in sports sector, the MP said the Sports department is preparing to equip every government school with at least a futsal ground.
Indra Hang thanked the organising committee for organising the tournament which, he said, will encourage young people towards sports.
Dr. Remon Chettri highlighted the history of futsal in India and informed that futsal teams from Sikkim have already participated in three national and one international tournament. He appreciated the efforts of Yuksam Friends Forever Sporting Club in organising the futsal tournament.
"Football is already popular in west district and futsal can be as popular as football in the near future," he said.
He also informed that Sikkim Futsal Association has planned to start a separate futsal association for West Sikkim.
The day also witnessed an exhibition futsal match between SKM Sports Wing led by the MP and Yuksam Veterans.
The event also saw felicitation of Indra Hang Subba and Dr. Remon Chettri.
Also present were Culture department advisor Bhim Kumari Sharma, Yuksam SDM Tshering T. Bhutia and SKM students wing president Sangay Chopel Sherpa.
The tournament started on November 14 and will conclude on November 25.