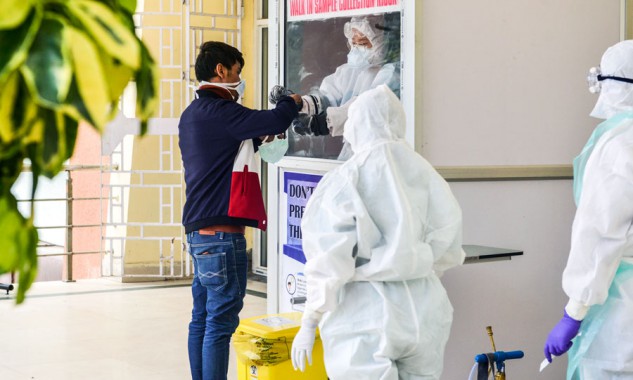 Monday, Aug 03, 2020 12:30 [IST]
Last Update: Monday, Aug 03, 2020 06:56 [IST]
State focus on more recruitment to meet rising healthcare manpower demand
PANKAJ DHUNGEL
GANGTOK: In the present Covid era, the public healthcare sector needs more resources at every level from specialists to technicians. Healthcare workers are being stretched given they have to perform their non-Covid services under the shadow of coronavirus. Safety protocols also demand that they take self-quarantine after a period of service which means that another set of healthcare workers have to step in to fill the gap.
Every week, if we take just STNM hospital here into account, there is an average of 45 health workers that are exposed to the Covid positive patients in the State. This week there were 67 health workers who were in the Covid isolation and other related wards of the hospital. They include six doctors from various departments.
To counter the increasing need for more health workers and supporting manpower, State government has constituted a steering committee recently.
Health director general-cum-secretary Dr. Pempa Tshering Bhutia serves as the member secretary in the steering committee.
Speaking with SIKKIM EXPRESS, Dr. Pempa said: "There are many places where the doctors and health workers are not sufficient and the committee aims to resolve the issue. Wherever we can pull manpower from, we will from other departments. We have previously pulled in additional manpower of those belonging to the Group C and D such as peons and clerks, to aid us in the health sector. But, we cannot pull doctors and nurses from other sources. Hence, we are aiming at recruitment of more."
Since the establishment of the new STNM hospital, the need for more specialists is felt more than ever. There are a number of departments that are still running without proper specialists and the support staff needed in the form of nurses and technicians.
A week earlier, a doctor from the emergency ward of the hospital tested Covid positive, after being exposed to the virus from a patient, leading to the entire staff being isolated and the emergency services in the hospital being stopped for a week.
"A major part of concern for us is the spread of the virus to the health workers, if there is a rise in cases, doctors are bound to get exposed to the virus more often. We want to protect the health workers, as the treatment and services not merely delve on Covid treatment but also non-Covid services, as well. We have to protect our health workers and if need be even those in bureaucracy currently, such as myself have to take up our duty as doctors and specialists", stated Dr. Pempa.
A senior doctor from STNM hospital, requesting anonymity stated, "The spread of virus to the health workers is a concern at this juncture, but even through exposure, we are to carry out the services for other ailments and diseases, which is never going to stop. Even with the threat of Covid looming large, the State is in need of nephrologists, neurosurgeons, and the hospital is still carrying out dialysis without a devoted nephrologist. A major part of credit goes to two doctors from the Medicine department, Dr. BN Sharma and Dr. Phur Lhamu Sherpa, who have been catering to the service at this time of need, yet there has to be specialists. Even these doctors have to take up the Covid duties, just as Dr. Sharma did so two weeks ago. With patients who were otherwise undergoing dialysis in other parts of the country coming back to the State and in need of dialysis, the number of patients who are in the slots for weekly or bi-weekly or emergency dialysis, has been ever increasing. So how will they manage, when they have to take two weeks of quarantine after their Covid duties?".
With the lockdown and procurement of manpower not possible from other States, the State government might have to consider the existing Sikkimese doctors who are working in other parts of the country or those working within and close to the State, even in the private sector.
Over the course of the last two years since the establishment of STNM hospital and ever surging need for health workers, 261 nurses were appointed in 2018 and 263 in the following year. They have been a big addition to the State health sector, given how Covid-19 has taken over the State now with 639 cases as on July 31. But what fails to be noticed is that in 2019, 36 positions for doctors were created by the Sikkim Public Service Commission, of which some 10 specialists inclined on not serving the State for their own reasons.
With the formation of the Steering Committee, the State Health department is inclined to create 37 more posts for specialists and even for those freshly MBBS graduates.
"There are 37 doctors who have cleared or given a written examination through Sikkim Public Service Commission (SPSC), so we are focusing on recruiting with one-time relaxation. We are also trying to rope in those under ad-hoc services, as most of the doctors don't agree to work on an ad-hoc basis. They agree only to regular appointments. These are desperate times and we will have to bring in all the doctors that we can", stated the State Health director general.
There are nine doctors in STNM hospital who are working on an adhoc basis, currently most of whom could be from dentistry.
Dr. Bhutia further mentioned, "Doctors agree to come to STNM hospital on an ad-hoc basis but they refrain from doing so in district hospitals like Geyzing and Namchi. Even those working in Siliguri and other parts of the country might have to be recruited. There are 12 such doctors that have been shortlisted but more could follow. We have to look after the PHCs and other non-Covid patients as well. It's not like other departments where we can pull officials from other departments. But when patients come, we have to give services", stated the Health director general.
Even at district hospitals, there is a need for doctors and supporting healthcare workers.
With asymptomatic Covid patients either being kept in district isolation centres or home quarantine as per new guidelines, these doctors might have additional work to be put in for Covid as well. Add to that, the other non-Covid diseases and need for treatment. Some doctors are also given additional duties for managing quarantine facilities and screening at the borders.
A welcome initiative towards the same has been the decision to rope in government school teachers to manage the quarantine centres and screening processes, which the teachers have willingly agreed to at this time of pandemic.