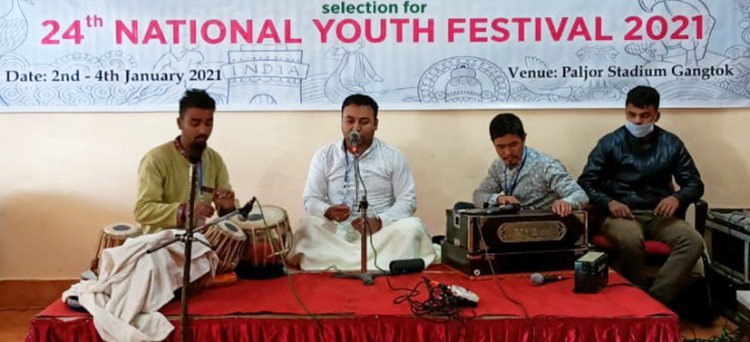 Monday, Jan 04, 2021 08:00 [IST]
Last Update: Monday, Jan 04, 2021 02:22 [IST]
State youth festival starts; winners to represent Sikkim at national
KUNAL RAI
GANGTOK,: A two-day State Youth Festival started at Paljor Stadium here on Sunday. The festival is organised by State Sports & Youth Affairs department to select participants from Sikkim for the upcoming 24th National Youth Festival to be held in New Delhi later this month.
The top three winners from the various categories including music, dance and theatre will represent Sikkim at the national level.
The State-level competition has over 300 participants from across Sikkim. The department has empanelled 19 judges for different competitions to identify the top three participants from each category.
The top three participants from each category at the State-level festival will perform at Manan Kendra from January 5 to 8 and the videos of the performances recorded will be sent for the national-level event.
As shared earlier by Sports department, the National Youth Festival this year would be a virtual event and the participants would either perform live on digital platform or submit their videos to be played during the national event.
The State Youth Festival was launched by Forest minister Karma Loday Bhutia. Congratulating the participants, Bhutia stated, "The festival is very important for all of as through this we can showcase our rich culture, tradition and costumes to the nation."
Bhutia added that participation in such festival will also help the youth enhance their confidence.
Sports secretary Raju Basnet informed that the State-level participants were selected for the competition after evaluating their video submissions.