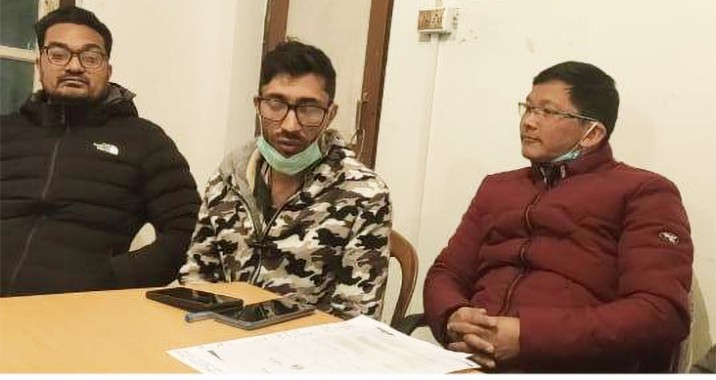 Wednesday, Jan 13, 2021 07:30 [IST]
Last Update: Wednesday, Jan 13, 2021 01:58 [IST]
Stop trade licence subletting practise in Geyzing: ASBHA demands
KUSH HANG LEEWANG
GEYZING,: The All Sikkim Business Holders Association (ASBHA) has demanded a complete end on trade licence subletting in Geyzing town as such practise was "illegal and against the interests of local business community".
ABSHA is a recently constituted traders' body of Geyzing.
Addressing a press meet on Monday, the ASBHA members maintained that the practise of trade license subletting would harm the interests of the genuine Sikkimese business community and also pave the way for influx of outsiders in trade and business affairs of the State.
Trade licence subletting is rampant in Geyzing town while the efforts of the authorities to contain it have not yielded strong results, it is alleged. Local traders here have started voicing their objections on the issue.
Speaking to media, the ASBHA demanded that payment of bill and other monetary transactions should be done in the name of genuine licence holder. If a trade licence holder hires someone to operate their business then provision of provident funds and life insurance for the hired person should be ensured by the business owner, the association said.
The issue of sublet licence is raised time and again but effective steps to resolve the issue is yet to be initiated in the town, the association said.
ASBHA president L.B. Rai maintained that curbing license subletting would facilitate the genuine local traders to generate employment while also limiting the monopoly of outsiders in trade affairs.
"License subletting if not stopped would result in more influx of outsiders and encroachment into the interests of the local business community. License subletting is violation of law and goes against the genuine business community", he said.
Rai expressed that the licence holders should understand the drawbacks of subletting licence to outsiders which is directly affecting the youth in dire need of employment. "We are against the culture of licence subletting because we are worried for the future of local business community. We want legalization of business affairs so that interests of genuine Sikkimese business community are safeguarded", he said.
The ASBHA demanded that the concerned department should issue trade licences after a proper verification of documents to local people. The association further alleged that many shops in Geyzing town are selling non-prescribed items.
ASBHA general secretary Santosh Gautam called for unity amongst traders union and associations of the town for redressal of the business community's related issues. Pitching for safeguarding the interests of the Sikkimese business community first, Gautam maintained that ASBHA would welcome any initiative of other traders organizations initiated for the wellbeing of the local business community. The association would not remain silent if the interests of local business community are threatened, he said.
The members maintained that ASBHA is an apolitical association formed for the welfare of the local business community.