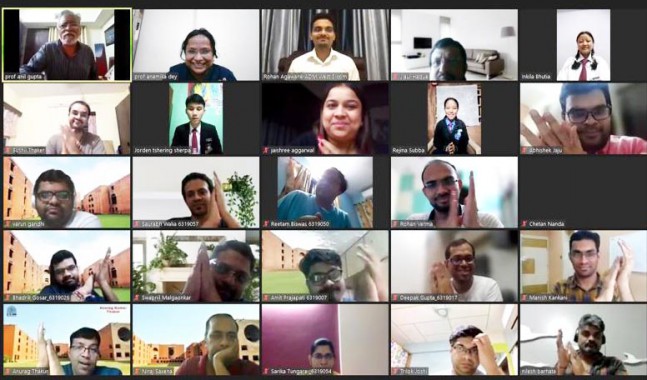 Wednesday, Sep 08, 2021 05:15 [IST]
Last Update: Tuesday, Sep 07, 2021 23:45 [IST]
Students present their learnings from Aatma Nirbhar Sikkim initiative
GANGTOK,: Three students from Sikkim and ADC (West) Agawane Rohan Ramesh virtually addressed a class of Executive MBA Program at IIM-Ahmedabad on 'Grassroot Innovations and Entrepreneurship Development'.
They were invited by IIM-A to present their learnings from the 'Aatma Nirbhar Sikkim' initiative taken by the ADC (west) in collaboration with Nehru Yuva Kendra (NYK), West Sikkim, a press release informs.
'Aatma Nirbhar Sikkim' was launched in west district from March 5 to 7 in which a total of 18 schools from all across the district participated. The programme aims to inculcate entrepreneurial skills among the students to make them self-reliant and capable of creating jobs which is the main theme of government flagship programme 'Aatma Nirbar Bharat'.
Each team consisted of 10 students from class XI and XII and two nodal teachers to assist the students during the event. The initial investment required to set up the food stall was completely borne by the students with each student contributing Rs. 500 from their own pocket and thus each team having initial capital of Rs. 5,000.
These schools then operated the food stalls for three days to generate revenues so as to learn the concept of running a business. At the end of the three days, the team with the maximum profit was declared as the winner.
The total business done in three days by all the schools combined was Rs. 3,45,000. The profits earned by each team varied between Rs. 25,000 and Rs. 2,200 and none of the team made any loss.
In continuation with the initiative, an Entrepreneurship Club was formed by the west district administration and NYK, West to provide hand-holding support to students interested in starting their own business in future. An awareness camp regarding various government schemes for encouraging start-up was also conducted in partnership with MSME department to make the students aware of the funding opportunities. The aim of the club is to make all these business ideas a reality at the earliest.
Similar initiative was undertaken by Ramesh in south district when he was posted as Namchi sub-divisional magistrate.
The west district administration and NYK, West has congratulated Rejina Subba (Namchi Girls' Senior Secondary School), Jordan Sherpa (Pelling Senior Secondary School) and Inkila Bhutia (Jorethang Senior Secondary School) for giving a successful presentation at such an esteemed organization and receiving an encouraging feedback, the release mentions.