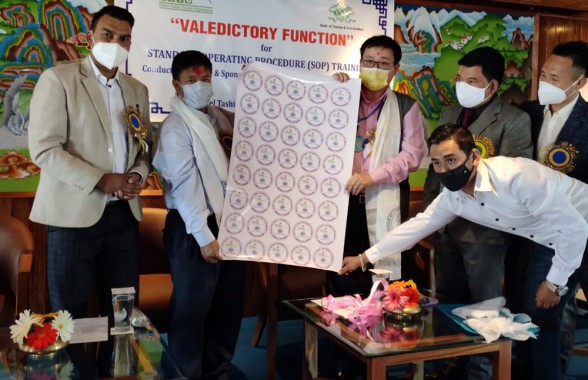 Sunday, Oct 18, 2020 12:15 [IST]
Last Update: Sunday, Oct 18, 2020 06:40 [IST]
SUTO training for luxury vehicle drivers, owners on Tourism SOPs
KUNAL RAI
GANGTOK:The Sikkim United Tourism Organization (SUTO) organised a two-day training for its members and the drivers and owners of luxury vehicle on the Standard Operating Procedure (SOP)for resumption of tourism sectorin the State.
The SUTO training on October 15 and 16 was supported by the State Tourism department. The valedictory programme at Gangtok on Saturday was attended by Gangtok MLA Y.T. Lepcha and STDC chairman Lukendra Rasaily, also the chief advisor of SUTO.
SUTO president Ganesh Sivakoty mentioned that the training was imparted to luxury vehicle drivers and owners considering them as the integral part of the industry. The sessions had eminent resource persons from diverse fields like environment, health and hospitality management. A total of 125 participants attended the training, he added.
The SUTO president further lauded the State government's decision to resume tourism activities.
STDC chairperson Lukendra Rasaily, in his address, congratulated SUTO for successful completion of the training programme. He said it was with great hardship and thorough interaction and guidance of the State government that the resumption of tourism activities has been initiated.
"The unlock comes with certain SOPs in place for the stakeholders to follow as this will not only provide safety but will also act as a record and help us in contact tracing as well," said Rasaily. He further announced of starting monsoon tourism from 2021 along with snow tourism for which he requested all to be prepared.
"We all need to come together in making the industry safe and secure for our visitors and local population alike. There is a need for upskilling of all stakeholders and for which theSkill Development department is ready to extend all possible help required," added the STDC chairman.
The Gangtok MLA asserted his support for the development of the tourism industry in all aspects. He added that all that is required for the fostering of the tourism industry will be planned and delivered in consultation with the State government. I will reach out to the Central government in making the industry regain and reach new heights, said Lepcha.