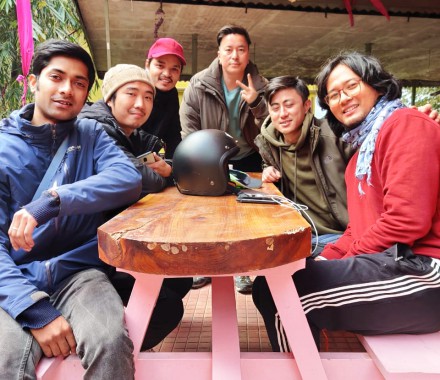 Monday, Mar 08, 2021 07:45 [IST]
Last Update: Monday, Mar 08, 2021 02:07 [IST]
Taba Chake's multi-linguistic musical journey reaches Sikkim
ISABELLA GURUNG
GANGTOK,: Multilingual finger-style guitar player, singer-songwriter and performer Taba Chake enthralled Gangtokians with his performance at Thuendel Food & Spirits, near District Court here on Saturday evening. Organised by Thuendel Food & Spirits, this is Chake's first gig post-pandemic.
Hailing from a small town called Doimukh in Arunachal Pradesh, the 28-year old has garnered millions of streams in various platforms for his debut album 'Bombay Dreams' in 2019.
Having grown up in a Nyishi tribal family, Chake's music is inspired by tribal folklore, birds and nature. The multilingual artist speaks and understands five languages i.e. Nyishi, Hindi, English, Nepali and Assamese and writes songs in various languages including Nyishi, English and Hindi.
In an exclusive interview with SIKKIM EXPRESS, Taba Chake speaks about his musical journey so far.
What inspired you to get into music?
Chake: I would describe myself as a funny, happy, mountain lover and a songwriter. I grew up listening to Bollywood music. My mum and uncle were die-hard Bollywood fans, especially my uncle. He was a Salman Khan lover and 'O O Jaane Jaana' was his favourite song, among other Salman songs. My mum was mostly into Kishore Kumar and the 60s and 70s music. Later, my uncle went to Shillong for further studies, and used to come home with English cassettes of artists like MLTR and other oldies. I grew up with my family who were music lovers of different genres. None of my family members were musicians but they deeply inspired me to get into music.
I am a self-taught guitarist and I started playing since 2006. In 2013, I don't know why I wanted to join a music college and I applied for a music college in Tamil Nadu on a scholarship basis. I dropped out of college after one semester because for me theory was very difficult for me, because I create music from my soul and gut-feeling. I put my feelings in words and create music, but theory teaches you to write down your feelings, which for me was impossible. It was no more theory for me; I wanted to do it practically.
I wrote my first song titled 'Kya Mein Kahu Tujsey' in 2010 with one of my friends.
I mostly write songs in English, Hindi and Nyishi. I have also started writing music in Assamese. I understand Nepali and I would definitely want to make music in Nepali but back home in Arunachal I don't have many Nepali-speaking friends, but if I get a chance I'd definitely make music in Nepali.
Musical influences
Chake: Sadly, I don't listen to songs anymore. When I create music, I try not listening to other artists because I sometimes feel that when you start listening to other artists too much, you start to sound like them. Knowingly, unknowingly you get influenced by other artists if you listen to them too much. I try to keep to myself before I create music. I inspire myself. [Laughs]
About your debut album 'Bombay Dreams' and breakthrough
Chake: 'Bombay Dreams' was released in 2019. It has 10 songs in three languages i.e. Nyishi, English and Hindi. I named it 'Bombay Dreams' because Bombay was always a dream for me. It is always a dream for any other villager or movie buff like me. There are so many imaginations and visuals of Bombay when you've been watching Bollywood films.
I have been based in Bombay since December 2017. Being in Bombay and working in Bombay, I think I have touched the impossible enough. I wouldn't say that I have made it though. It was the start of my journey as a musician and so I titled my first album 'Bombay Dreams'. Plus, the name itself is very catchy.
'Shaayad' and 'Walk With Me' from the album were my breakthrough songs.
Journey
Chake: The journey was not just difficult but impossible for me. The apartment that I lived in Bombay was 22 storeyed and each room had at least six people who were into the creative field. Bombay is filled with creative people and everybody is waiting for their chance to shine. It was the next level for me and I come from a small village in Arunachal. Moving to Bombay was impossible.
Process of creating music
Chake: Whenever I go to the mountains or villages, I never go there to write music. My guitar is always with me when I travel and I may just strum some tunes here and there. When I leave the place and go back to Bombay or any other big city, where there is no mountain close-by, I try to recall everything that I had experienced during my stay there and try to write and compose music with all the good and bad emotions.
Best performance of your career?
Chake: I have performed in various music festivals like VH1 Supersonic, Zomaland Food & Music festival, NH7 Weekender, X Food Festival, among others. Earthfest in Delhi last year has been the best because everyone in the audience was singing along with me. I had just started singing and the audience were already in the mood. They sang along with me throughout.
What are your views on the present music scenario of the Northeast?
Chake: People from the Northeast are extremely talented in every field, but are very shy. There are so many creative people but they aren't able to express their creativity and talent. Creative-wise everyone is talented, including kids but they aren't able to showcase their talent because they are shy. Some aren't focused and do creative things temporarily.
What next?
Chake: I will keep creating music. I will also be recording an EP or an album. Few singles will be released by June-July this year.
About Sikkim
Chake: This is my first gig post-pandemic and it feels good to be around people. We may have made mistakes here and there, but I am sure the audience will forgive us. Sikkim is a wonderful State. For people who are visiting Sikkim, we feel so neat and clean, the weather seems great and we as outsiders can learn so much from Sikkim. I will definitely be coming back to Sikkim and I am also thinking about renting an apartment for a month or two and creating music here.