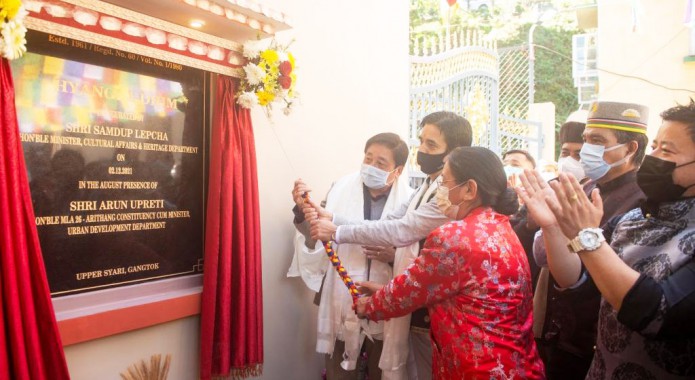 Friday, Dec 03, 2021 08:15 [IST]
Last Update: Friday, Dec 03, 2021 02:34 [IST]
Tamang community's Hyangla Dhim inaugurated
GANGTOK,: Hyangla Dhim of Sikkim Tamang Buddhist Association (STBA) at Upper Syari was inaugurated by Culture minister Samdup Lepcha on Thursday. The inauguration of the building which was completed in 2019 was delayed due to the Covid-19 pandemic.
Minister Lepcha said Tamang community may not have the highest population in Sikkim or India as a whole, but Tamangs have excelled in various fields including art, literature, sports, music etc. Hope this continues in future too, he added.
Lepcha urged the younger generation to work hand-in-hand with the seniors towards preserving the language and culture of the Tamang community. He also urged the association to make a tariff card for the rooms in the Dhim, so that the Sikkimese from humble families can make use of the bhawan.
Urban Development minister Arun Upreti, who attended the event as the guest of honour, said that the Dhim is for every Sikkimese in need, because Gangtok is an expensive place and hotels are costly. "The State government has been supporting every community of Sikkim through various means," he said.
Upreti urged the people from various communities to work together to promote tourism and culture, not just in Sikkim but outside the State as well. He also urged the gathering to promote their traditional attire.
Both the ministers assured full support from the State government for future endeavours.
STBA president Binod Yonzon informed that an amount of Rs 1 crore was sanctioned from the Culture & Heritage department for the construction of the bhawan. The work commenced in July 2012 and the Dhim was completed in 2019, with a total executed amount of Rs 2.17 crore. The remaining 1.17 crore was contributed by the community members.
On the occasion, STBA founder member N.D. Lama was felicitated for his contribution towards the formation of the association in 1961.
The inaugural function was also attended by Melli MLA Farwanti Tamang, Padma Shri G.S. Lama, Ven Loben Gyurme Moktan and invited guests.