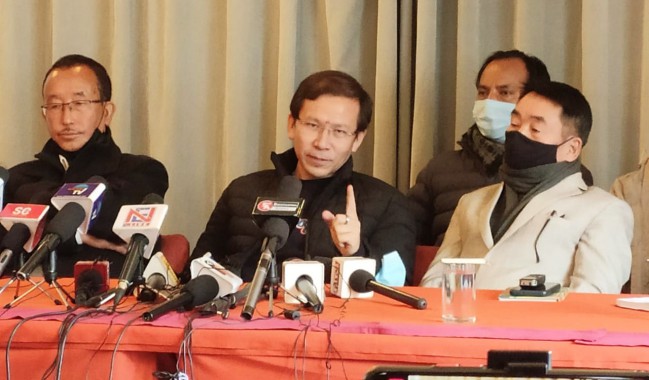 Tuesday, Jan 25, 2022 08:15 [IST]
Last Update: Tuesday, Jan 25, 2022 02:38 [IST]
Team Ganesh quits SDF, to launch new party this year
BIJOY GURUNG
SDF has ossified beyond reform, compelled us to seek a new path: Ganesh
GANGTOK, : Senior SDF functionary Ganesh Rai on Monday submitted his resignation from the Pawan Chamling-led party that has "ossified beyond reform" and announced to launch his own political outfit within this year.
Former deputy Speaker Sonam Gyatso Lepcha, former minister Dawcho Lepcha and 39 others also joined the Melli-based politician in recording their formal disassociation from the SDF.
"We are officially announcing our resignation from the SDF. With a heavy heart we are formally leaving the SDF, a party which we served for many years. We made honest efforts to bring reforms in the SDF but no sign of change came and we are compelled to leave the SDF," said Ganesh in a press meet at Gangtok.
Ganesh had been critical of the SDF leadership since the 2019 Assembly defeat, the sore point being lack of accountability at the top level for the electoral loss to the SKM party. His resignation was expected along with those others in SDF seen with him in his push for "reforms".
Ganesh does not see him quitting SDF as a betrayal to the party. "Many allegations have been levelled against us. It is said that we betrayed the SDF but we do not see it as a betrayal. Our resignation shows our love for Sikkim, we want to keep working for the people and for this reason, we are leaving SDF," he said.
The disassociation with the SDF was expressed by Ganesh as "existence felixiblity".
"We gave our time, energy and resources to the SDF. Whatever responsibilities were given to us, we did it sincerely. We had done this for a cause but there was no possibility of continuing with it in SDF. To achieve our cause, we must decide our path and hence we took this decision to head into a new direction."
In response to media questions, Ganesh said he and his group would be launching a new political party within 2022. "I have directly met 1 lakh people and spoke with them. I am continuously meeting people. We believe in collective leadership. The structure and faces of the party, you will come to know in coming days. It will be a party run by the people. The party will be launched in 2022 and we will go for electoral politics."
Asked about his stand on various socio-political issues of Sikkim, Ganesh maintained that his party, when it is launched, will come up with solutions on these unresolved issues. "We want to approach them in two manners – public consensus and strong political will. We will come up with solutions the day we launch our party."
To a question on why he did not seek "party reforms" and his regular public endorsement of Chamling's leadership when SDF was in power, Ganesh said such reforms were sought during internal meetings but in public, he defended the party as a loyal party worker.
"Whatever responsibilities were given to us, we fulfilled it with full sincerity and strongly defended the SDF in public. We respected the party in public but in internal meetings we used to push forward our call for reforms. We also gave our suggestions verbally and in writing but we got the anti-party tag. You can see now that so many people and leaders are leaving SDF. Why? Because there is something wrong in the party."
Ganesh maintained that SDF also failed to play the role of opposition.
"When SDF became opposition after the 2019 elections, we had pressed that SDF should fulfil its role as an opposition party and seek justice for the people. We made many efforts but today all can see that SDF missed out to play the role of opposition party…opposition had become voiceless," he said.
In his written press statement, Ganesh directly told Chamling that he looked on "helplessly" when all the SDF MLAs switched to SKM and BJP while the party only "got weaker and weaker".
"The helplessness of the party was such that when SDF supporters were being targeted by the SKM, SDF party remained a mute spectator. SDF supporters then started taking resort in BJP by joining the BJP party en mass across Sikkim. It was a moment of helplessness and realization for me and many SDF supporters."
The party has ossified beyond reforms, Ganesh said adding that he is not alone in "feeling so".
To a question, Ganesh said while the group at the press meet resigned today, many others from different parts of Sikkim are also resigning from the SDF. Not only from SDF, many from other political parties would be resigning and joining with us, he said.