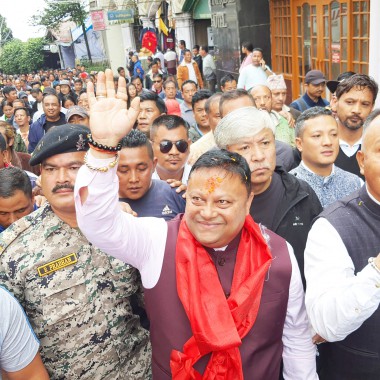 Friday, Jul 01, 2022 08:15 [IST]
Last Update: Friday, Jul 01, 2022 02:33 [IST]
Thapa commits to win over Darjeeling voters with good work
DARJEELING, June 30: Bharatiya Gorkha Prajatantrik Morcha (BGPM) Anit Thapa, after leading his party to GTA election victory, committed to win the hearts of Darjeeling voters with good governance.
Thapa was referring to the lesser votes received by BGPM in Darjeeling town in the GTA election which the party won to form the GTA board with 27 seats. He was addressing the people at Chowrasta here during a 'thank you' rally on Thursday.
"Peace has been restored in Darjeeling and the BGPM takes responsibility to keep it that way along with making people happy and prosperous in the coming days. The BGPM did not get votes here (the town area of Darjeeling) but we do not mind. We feel that we have not been able to reach out to people here. I had spent only 4 to 5 months here but now I will stay here and try to reach out to everyone and come to your houses and know your problems," said Thapa in his speech.
The BGPM had participated in 36 seats out of 45 constituencies in the GTA. The party mostly won in rural areas with Hamro Party performing well in the town area seats here.
"I did not organize a big celebration today, but we will hold a victory rally when people thank us after seeing our work in 5 years. This program today was only to thank the people and party cadres that they did not lose faith in me even though I have lost four times," Thapa said. He stressed on the need of working collectively, even with the Sabashads of other parties, for the betterment of the people.
Today's program started at Kurseong and ended at Darjeeling with Thapa making stoppages in different places and interacting with people. A rally then started from the Darjeeling Railway station which converted into a small public meeting at Chowrasta.
In his speech, the BGPM president emphasised that if the hills are made better, it would automatically lead to the betterment of the people.
"If a village is developed then the people in the villages will develop. I have no place for such people who think about themselves first and then their village. It should be about their village first and then themselves," he said.
Thapa added that there are challenges ahead and sought the support of the people. He also spoke on the Gorkhaland issue adding that a resolution would be passed in the GTA Sabha. We will then write to the government to open a dialogue for it, he said. He stressed that the demand of Gorkhaland should not create any disturbance in the hills and affect tea gardens and schools among other things.