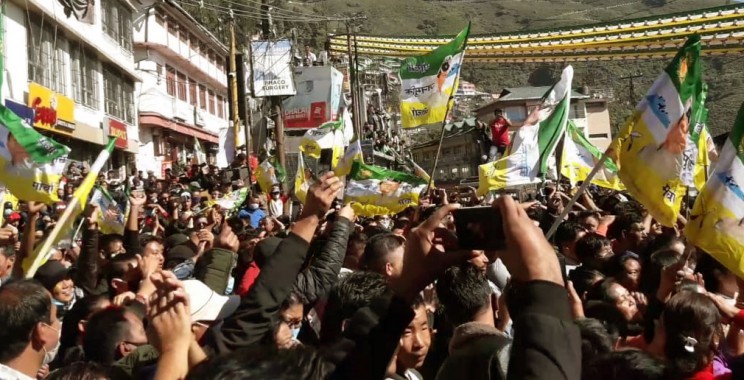 Tuesday, Dec 01, 2020 07:00 [IST]
Last Update: Tuesday, Dec 01, 2020 01:22 [IST]
The trick is to be at the right side at the right time
SUDIPTA CHANDA
SILIGURI,: The Gorkha Janmukti Morcha (GJM) leader, Bimal Gurung has made the first move to step back into his home turf the Darjeeling hills.
The number two of the Gurung faction Roshan Giri's rally at Kurseong on Sunday was the first tactical move in this direction to test the waters.
The move will have its ramifications one way or the other.
How Gurung's returning to the hills flashing a Trinamool card aid the Trinamool Congress gain political ascendancy in the region will be tried in the forthcoming Assembly elections.
But, more than that Gurung's first objective will be to regain lost political ground in the hills. Three-and-a-half years' absence has eroded plenty of it.
The strategy is clear and there is no question that the Binay Tamang faction of the party, which currently rules the roost in the hills, will have seen through it.
There is no question again that the Tamang faction would not let go of its fief without a contest.
The question is how would that contest pan out. Would it be volatile or democratic? Peace and stability of the region would depend on that.
Now about a matter of timing. In politics timing is of great essence. Belonging to the right side at the right time often writes the fortunes of politicians.
And this is where Gurung and his faction's political wisdom will be assessed.
Having severed ties with the BJP, Gurung has befriended the Trinamool although the Trinamool is yet to come out openly on the subject.
The Trinamool and the BJP are being considered as the two most dominant political forces in West Bengal currently.
It is also being touted that one of the two would form government after the 2021 Assembly elections in the state.
If the Trinamool succeeds in returning to power for a third time in a row, Gurung and his faction have played well. Their political insight will be extolled.
But, the current hectic political schedule of the Trinamool leadership is a clear indication that the BJP is not to be taken lightly anymore. It too is now a serious contender to the hot seat in West Bengal.
What happens if the BJP does come to power? The timing of Gurung's changed fealty will come under question even among his most loyal of supporters.
See how timing matters? The picture will be clear in another six months' time. Waiting out that period probably was the most sensible thing to do at this moment.
The die is but cast.