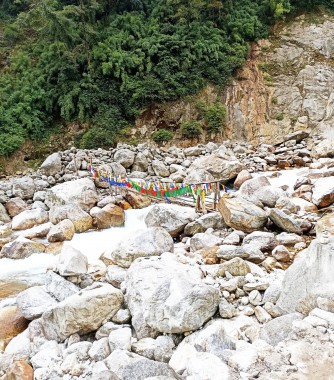 Sunday, Dec 05, 2021 08:45 [IST]
Last Update: Sunday, Dec 05, 2021 03:09 [IST]
THOLUNG | Mayel Lyang's hidden treasure
PANKAJ DHUNGEL
A SE TGIF! SPECIAL FEATURE….
Enjoying the November sun in Lingthem, amidst the Dzo Tyuim Festival in Upper Dzongu, I pitched an idea with my friends. "Let's go to Tholung Monastery, I have been hearing here that there is some festival happening later this month". My friend quickly quipped, "Bhakal na gar (don't wish for it), they say Tholung has to call you!" That statement in all honesty scared me. I was not someone who had dug up on the factual grounds of what or why Tholung was holy, famous or one of the most revered monasteries in Sikkim.
Days later, social media posts started giving advisories on getting registered at Sangkalang in Dzongu, leaving vehicles in Mantam lake, shared vehicles to take devotees till Bey, only then would the hike begin. I inquired around, most said no, largely understanding the fact that one would be away from the digital world for days, something that social media frenzy journalists couldn't afford to miss. I asked my next door neighbour, who recently became the District Information Officer in North Sikkim. He said, "Bhai, I will be joining only from December, why don't you speak with the current DIO Simon Subba?"
IPR to the rescue
When all the the journalists gave up, Sikkim's Information & Public Relations Department came to aid. Simon Subba's only barking order as the boss came before the trip, "carry your own sleeping bag and try finding a tent". Sleeping bag is easy to own and a must, but tent still needed some calling. I was left without a tent before leaving. Now packing instructions particularly involved warm clothes. All jacked up, before the IPR could call, I was ready on November 23 morning. Picking up four SIAs from Tadong, looking at their humongous luggage inclusive of yoga mats, profile mats, water bottles, reality started creeping in. Reaching Development Area, to more addition of necessities by Simon Subba. I told him, "I don't have a tent". He assured that he got me covered.
The Team
Along with me, five IPR officials were taking three men from Shining Sikkim who were covering Sikkim artistically ensuring documentary film level shooting. They too had humongous luggage inclusive of lights, tripods, bags with cameras and lenses. I looked at my own luggage, a single back pack. We were further joined by Norden from Bey, who was to be our guide for the Tholung trip. The entry at Sangkalang with the IPR was easy, but the topsy turvy Dzongu road crossing Mantam River, Tinvong's snaking traffic jam exhausted us and time. Everyone overstepped the instructions of keeping vehicles at Mantam, everyone got the idea about how crowded the festival is likely to be. But we overstepped that jam as well showing the government registered vehicle as our armour.
Lingzya Junction
Lingzya was buzzing with vehicles, with everyone eyeing for a parking space in terraces of harvested paddy fields. The cops at the scene suggested, "You drop your vehicles here, mount your luggage in another shared vehicle, only 10 vehicles at a time to reach Bey".
The waiting game here was for the luggage to be transferred in appropriate vehicles, following an hour long wait with 10 vehicles getting easily cramped with people. We took decision to take the other hired taxi brought from Gangtok.
Buzzing Bey
Bey is a dead end for roads in Dzongu, but hikers, backpackers, trekkers and mountaineers are some of the names that start floating from Bey. A couple of shops for all the last minute additions before the hike. We look around for porters, as promised by Norden. There were many but none were free. They were already overbooked by impromptu luggages and departmental necessities.
"We carry our own luggage", said Norden with a broad smile. Between shuffling who carries what, the clock rang 3 pm and we still had 6 hours hike (on paper).
We were welcomed to Kanchendzonga National Park by the first dangling bridge and thus began our journey led by Simon Subba, Semona Lepcha, Isaac Pradhan, Kritika Sharma and Sayreep Lepcha, all from IPR department.
The three men from Shining Sikkim had already started off but were struggling to carry their equipment. It slowed them down, but a use of a few 'choyas' (scalps of smaller tree covers and barks) brought by Norden from nearby forest. Simon gave them a strong 'namlo' to carry the tall lights and tripods on their back. But it was no easy task to carry them.
Until all this was being done, Isaac, Sayreep and Semona had marched ahead not to be seen until Richen. Simon and Norden tried to keep their pace, but were pulled behind by a tiring Kritika. We started noticing others pace, they were fast, we were too slow and we just couldn't keep the pace. It was already dark and the porter's that were returning persistently told us "Another three hours". Those three hours were hard to come by in dark.
Shining Sikkim Lights
As the dusk came, torches lit up. All across the forest, we started noticing sharp lights moving, but the pace slowed down for everyone. The three Shining men led by Raviji, were quick to walk but got tired faster and the same became their pattern. They were crossed by many, but once they switched on their tall lights as torch lights, all the people came swarming like flies. Soon Raviji and his team, led the rest of pack. While the fast walking monks and porters were saying, "there are at least a 500 people still coming downhill". I quickly inquired, "How many at Tholung?" One young Lepcha boy smiled, "All the spaces for tent are gone, you may struggle to camp your tent tonight in the dark".
World's most expensive Maggi
Amidst struggling to locate the right way between stones the size of a small house, the sound of the river grew stronger. Making us realize that we had reached Richen. We later learned that Richen over the years was ravaged by many flash floods, creating the impossible impasse for vehicles to ever reach Tholung.
Reaching Richen, we were greeted to a small impromptu shop, the only one in the dark. It was a resting spot, where everyone wanted to have something or other. While, the enthusiasts were keen on gulping down a few pegs before the onwards journey. Our body could afford only a maggi with some eggs. The wait was long, but once the food came no one looked at the other person's plate, everyone seemed hungry. Once we were done with our food, we realized we had 'the world's most expensive maggi at Rs. 250 per bowl'. There was no argument made, while one gentleman suggested, "If I get my own Wai Wai for you to cook, how much will you charge?" The shop owner expressed displeasure highlighting the struggle of getting food and drinks till Richen.
A thirty-minute halt here, we witnessed that many had fallen sick by then. One old lady enroute to Tholung was being nursed by her daughter, they had given up for the night, deciding on camping at the shop itself.
Lost in the woods
As we were buying some last sweets for our onward journey, the fast walking teammates from IPR department had long crossed us. Leaving Kritika and me, to fend for ourselves in the dark. We lost ourselves first in the mazy rocks, slowed down by the steep climb further ahead and at one point we were the only two persons in a long stretch in the dark.
The lonely walk across what felt like a footpath with occasional crevices for drain, we struggled with a single torch light. We decided to walk slow, but soon there was not a voice in the forest, no light shimmering in the distance. Neither could Kritika say that she was scared, nor could I. We feared a bear could smell our fears. We feared that we may take the wrong route and meander into the forest. To make matters worse, it started raining. I had a windsheeter on, but Kritika's furry jacket made her look more like a 'drenched bear in front of me'. Phew! we found another 'Hawa Ghar'. The clock ticked 8:30 pm by then.
Drenched in Rain
The wai-wai arguing Chungthang resident welcomed us to the resting spot, he was there with his wife. The two lit a fire, as even they were drenched despite an umbrella. Many others joined the fire, some had carried plastic sheets to use as rain coats, others were shivering, catching cold and rushing towards the fire. Our own Norden also joined us briskly, urging us to keep walking. But I argued, "I think we will now walk only once the rain stops". He decided to go ahead, catch the rest of the team and set up camp before the two of us would reach. Shining Sikkim team also joined us in stopping Norden from going, but there was no stopping him.
We stayed for 30 odd minutes, the rain refused to stop. Soon, the Chungthang couple suggested, "We have an umbrella, one of you can walk with us". We started off into the unknown, while the two of us keeping up with chivalry of awarding the umbrella to the ladies, were already soaked. Merely five minutes walk in the rain and shivering cold gripped us. We heard some noise coming from another resting spot. "Parkhera Janus, Pani Le Bijhcha" (wait the rain out, you will get soaked). He was a porter who invited us to a small cottage.
Finding a cottage
The cottage was from the Forest Department, and was in tattered condition with dried dung all over the floor, while one room was devoid of the floor itself. However, the Chungthang couple were quick to find a fire place. We started collecting the dried dung knowing it would fuel our fire. The broken floor and shelves served as our firewood. The porter team joined us, with two minds, "Shall we go or shall we stay?". The Chungthang couple affirmatively answered, "We will stay". The couple tried convincing us, "if we go, we are sure to get wet. In this dark, we will struggle to find our tents or camp them. It's better if we stay back".
We both were sceptical about staying back, knowing full well that the rest of our team was way ahead. "They must be worried for us, we must go", said Kritika. But the rain outside and a lit fire inside, we couldn't garner any courage to venture out.
Soon we opened our profile mats, sleeping bag, dried our clothes in the fire, opened up our chocolate packets, a bottle of brandy to keep warm and settled there. It was then, the porter group joined us, some of whom were just in their teens. They shared, "This route is infested by bears, hence even we are sceptical of going". We urged them not to go, just so that they could safeguard us from the bear.
Soon, we decided to send the young porters with an umbrella to bring the Sikkim Shining team as well as those shivering in the nearby resting spot to also come and join us in the cottage. They happily agreed it appears, with almost 20 odd people in the cottage, we spent the night in the creaking cottage with no windows, just a fire and sleeping bag to keep us warm.
Pristine Morning
The next morning, the porter group started early before daylight hit us properly. We decided to stay until it was properly lit. We knew we made the right decision. But so did almost 100s of others, as in the morning too, the route was crowded. Most of whom had stayed back at different Hawa Ghars to avoid the rain. What welcomed us in the morning, was nothing shy of pristine. Dew drops on leaves, a fresh green surrounding, swift flowing streams and echoing sound of the River at a distance.
After an hour's walk we came across an arch bridge, a properly constructed one, enough to suggest that we had reached Tholung.
Greeted by prayer chants
Once we entered Tholung, we could hear the prayer chants, people making the last arduous steep climb to reach the monastery high up in the Hill. The Monastery was crowded, our team was nowhere to be seen. But we made it just in time, when the Khamsel boxes housing the relics dating back to the first Lhatsun Chenpo's era were making a round of the monastery, before their display.
A warm tea, free of cost, with options for sugar or salt greeted us. We found our team. They expressed their fear that we were lost in woods. Soon we met Simon, who said, "I sent three times last night to find you two. I hope you made it unhurt and safe".
Once we got out of the monastery premises towards the open field, we realized how big the event was. There was not a space that was empty for pitching a tent. Our team themselves couldn't even open their tents, and had to resort to staying at Agya Dubden's makeshift restaurant in the night.
Setting up the tent
It was evident by then, that close to 5,000 people were in assembly. So finding an isolated location for a tent was trouble. We found a location just few feet away from the fabled Tholung House. While there were few proper houses, most were preoccupied either as a shop, stay for government officials staying in the cottages.
Sikkim Tourism had three cottages, which housed the VIPs. Tholung House was home to similar guests including the two Rinpoches from Gonjang Monastery and Lachung Monastery. The food provisions for the three days were provided by the Rural Management Department for all officials. But, an expensive buy was still available at different stalls set up.
Washroom was a concern, but once people learned about the washroom provided by the Tourism Department it proved to be ease for everyone.
Captain Simon and fighting leeches
The field was infested by leeches. The solution, mixing tobacco with water and spreading across the surrounding of the tents and our shoes. Captain Simon and his Khukuri were in act of finding firewood every day, cutting the dried branches nearby.
With the huge rush of people, walking from the camp to the Monastery could very well take 15 minutes in the muddy road. Perhaps we made the auspicious 108 rounds in our three-day stay.
The struggle of capturing the relics
As media persons, our cameras were out clicking different devotees and their various rituals. But the relics were completely prohibited from being snapped. The humming of prayers, the occasional Gyalings started from wee hours every morning and into the evening. Free food and tea was at the disposal of the devotees. The 16 boxes of relics were divided into two days of exhibition 11boxes on November 25, five on the next day. The final day was kept for Wang (blessings).
The ordeal each day, every hour was walking and capturing people's emotions. Notable faces from Gangtok were all seen as devotees. The high and mighty were all in awe of the large gathering and the humbling experience of having trekked so long to find the paradise. The evenings were pretty cold, with fire and smoke all day in front of most of the tents. And with the cold, the nights came early for every tent.
Just like that the tents vanished
On the final day, all the officials including Ecclesiastical Minister Sonam Lama, Dzongu legislator Pintso Namgyal Lepcha, Ecclesiastical Secretary Pasang D Phempu addressed the media upbeat over the grand success of Khamsel. They highlighted how only about 500 people would attend all previous 233-year old tradition of drying and airing of Lhatsun Chenpo's belongings and ancient Tibetan relics dating back to as early as 7th Century AD.
The people who were in long queue to receive Wang from Rinpoches, knowing the struggle of steep climb, quickly made the exit after receiving the blessing. And just like that all the tents, the rush vanished from Tholung leaving it to its isolation.
Finding Namzom and Thewkhang
During the three day stay, each morning people would throng to one stream to clean themselves. All of them would keep heading away from the monastery towards the forest. We learned that Tholung housed an ancient secret where it is believed that Guru Padmasambhava himself was in meditation in one of the caves.
The cave was an hour's climb from monastery. It housed a waterfall, believed to be holy water used for Wang a day prior. There were other sites of unique rock formation which the locals believed to be the site where Guru Padmasambhava fought a demon. A stone wall with piles of books like formation is believed to be where the demon is trapped. While all along the cave and its surroundings, the rock formations look like piles of books, enough to attract devotees to believe them to be holy books.
The Goodbye
When we bid goodbye to Tholung, we were greeted by Palden Nangpa, the 9th generation descendent of Tholung House. He would have been a Pipon if the monarchy still existed. But today, he is the protector of Tholung Monastery. He inquired if we had a pleasant stay and said, "Well this isolation is what Tholung really is, not the buzz you saw in these three days".
Living a legacy (Nangpa) and leaving a memory to never forget, I ended up believing, that Tholung truly calls you. They say to dusk off all the dirt from Tholung, as the mountain gods stand displeased and ensure wrath follows if you take anything from Tholung. My shoes gave up, before I could reach Bey, enough to conclude that perhaps this is what they meant.
Again in darkness, we left a bustling Bey for Gangtok on November 27. Many of whom had taken toddlers to Tholung, many of whom had taken elderlies to Tholung, all in faith, all in worship and all in awe of what Mayel Lyang holds as treasure.