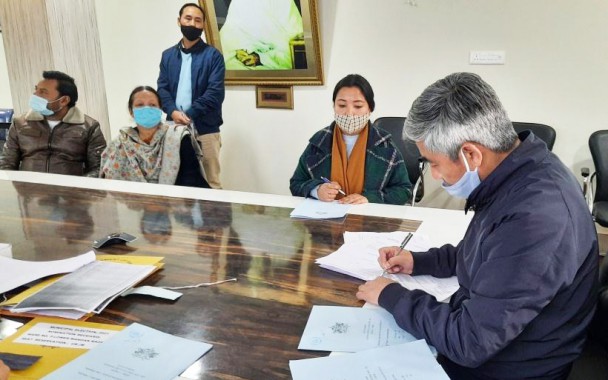 Thursday, Mar 04, 2021 07:15 [IST]
Last Update: Thursday, Mar 04, 2021 01:46 [IST]
Three file candidature for MNP, no nominations in South
GANGTOK,: Three independent candidates on Wednesday filed their nominations for Mangan Nagar Panchayat elections, informs an IPR release from Mangan. They submitted their nomination papers at the office of the North Municipal Election Returning Officer (MERO).
Those filing their nomination papers were Zangmoo Bhutia (Upper Mangan Bazaar), Nima Doma Lepcha (Power Colony) and Prativa Lama (Lower Mangan Bazaar).
In south district, no nominations were made today for Namchi Municipal Council and Nayabazaar-Jorethang Nagar Panchayat.
The last date for filing of nominations is March 8.
Meanwhile, MERO (north) Tenzing T. Kaleon held a preparatory meet for conduct of Mangan Nagar Panchayat elections today. The meeting was attended by SP (north) Ongmu Bhutia, assistant MERO Sonam Lepcha and senior officials.
The IPR release informs that the deputy director (Election department) provided the details of segregation of duties, the number of forms taken and the number of nominations filed till today.
The list of nodal officers for election related activities were appointed.
Kaleon urged them to take their responsibilities and duties seriously and in a systematic manner.
Basic amenities and requirements for polling stations and technical aspects, man-power as well as vehicular managements were discussed. Designated areas for meetings, for placing posters etc. were also identified.
The SP (North) advised the officials to coordinate and work in tandem and to leave no room for error.
There are five wards in Mangan Nagar Panchayat with 1760 voters.