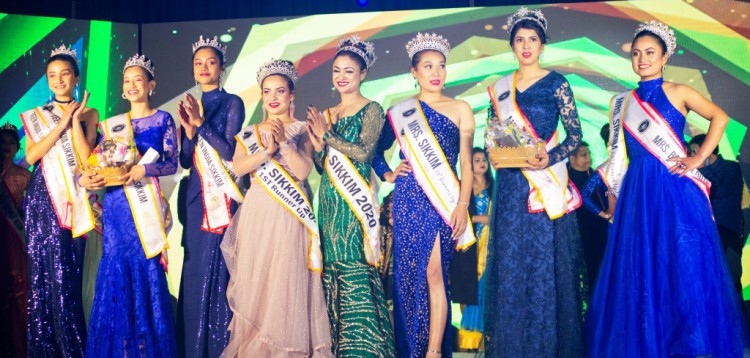 Thursday, Jan 28, 2021 07:45 [IST]
Last Update: Thursday, Jan 28, 2021 02:13 [IST]
Tila Sharma wins Mrs Sikkim; Pranisha Gurung becomes first Miss Teen India Sikkim
GANGTOK,: Tila Sharma from Pakyong was crowned Innovations Yamaha Mrs Sikkim 2021 at the grand finale held at Manan Kendra here on Sunday evening. Sashi Hangma Subba and Samjhana Subba were declared as first and second runners-up respectively.
Likewise, Pranisha Gurung from Namchi won the Teen India Sikkim contest, while Zaanvi Sharma and Anushka Khawas finished first and second runners-up respectively.
Organised by Sikkim Glamour World, the theme for the year was 'Naari nai Prajashakti' with special focus on protecting environment for a better future.
Mrs Sikkim 2021 winner will receive a Yamaha Faschino scooter, while Teen India Sikkim 2021 winner will receive an iPhone and direct entry in Teen India contest, which is also the first national pageant to be associated with Miss Teen Universe.
The judges for the grand finale were Miss Sikkim 1999 Anu Pradhan and Innovations Yamaha proprietor Ajeet Oberoi for Mrs Sikkim and SIKKIM EXPRESS editor Amit Patro and Drishya Chettri for Teen India Sikkim.
The guests for the day were Urban Development minister Arun Upreti, Transport minister Sanjeet Kharel, PHE minister Bhim Hang Subba and Gangtok MLA Y.T. Lepcha.
The finale included western round, gown round and question & answer round of the top 10 finalists in each category.
The top 10 finalists in the Mrs Sikkim contest were: Prava Pradhan, Sashi Hangma Subba, Sanjeevani Limboo, Anita Pradhan, Tila Sharma, Samjana Subba, Choden Bhutia, Dawa Zangmu, Nariyas Rai and Binita Limboo.
In the Teen India Sikkim contest, Sushmita Gurung, Passang Anchenla Sherpa, Pranisha Chowdhary, Passang Deeki Sherpa, Pranisha Gurung, Anushka Khawas, Nikita Limboo, Upashana Silall, Shelishya Gurung and Zaanvi Sharma were in the top 10.
The subtitle winners in the Mrs Sikkim contest are: Dawa Zangmu (Mrs Photogenic), Choden Bhutia (Mrs Popular), Sanjeevani Limboo (Mrs Mercantile), Sujata Rai (Mrs Talented), Prishkila Rai Limboo (Mrs Fashion Icon), Anita Pradhan (Mrs Style Icon), Priya Sharma (Mrs Vivacious), Jyoti Thapa (Mrs Active), Binita Limboo (Mrs Goodness Ambassador), Nima Gurung (Mrs Best Makeover), Sashi Hangma Subba (Mrs Ramp Walk), Tila Sharma (Mrs Beauty With A Purpose), Hari Hangma Subba (Mrs Spectacular Eyes), Anjali Chettri (Mrs Golden Heart), Nariyas Rai (Mrs Glamorous Look), Prava Pradhan (Mrs Congeniality) and Samjana Subba (Mrs Body Beautiful).
The subtitle winners in the Teen India Sikkim category are: Sushmita Gurung (Teen Popular), Shelishya Gurung (Teen Mercantile), Nikita Limboo (Teen Beautiful Hair), Nikita Gurung (Teen Golden Heart), Akshayata Rai (Teen Congeniality), Anuriya Chettri (Teen Glamorous Look), Swastika Nawbag (Teen Best Makeover), Pranisha Gurung (Teen Beauty With Brain), Simran Pradhan (Teen Fit), Upashna Silall (Teen Style Icon), Passang Anchenla (Teen Ramp Walk), Edna Subba (Teen Talented), Becika Chettri (Teen Spectacular Eyes), Smita Rai (Teen Photogenic), Passang Diki (Teen Fashion Icon), Prasansha Chowdhary (Teen Vivacious), Pritika Rai (Teen Active), Anantiya Chettri (Teen Glowing Skin), Disha Chettri (Teen Goodness Ambassador), Pushpa Tamang (Teen Beautiful Smile), Zaanvi Sharma (Teen Body Beautiful) and Anushka Khawas (Teen Beauty With Purpose).
From the auditions held last year, 18 women were shortlisted for Mrs Sikkim and 24 girls for Teen India Sikkim.
The Mrs Sikkim finalists were groomed by Guwahati-based fashion choreographer Prasantt Ghosh with help from local model Rinzing Bhutia.
The Teen India Sikkim finalists were groomed by Miss Teen India World Vice Queen 2019 Drishya Chettri, with help from Miss Globe India 2019 Kripa Chettri.