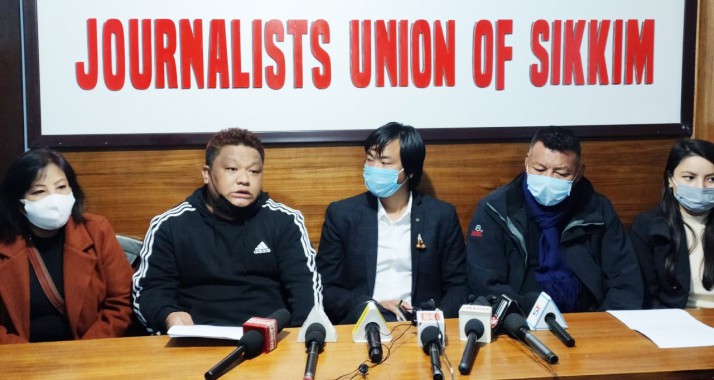 Tuesday, Jan 11, 2022 08:00 [IST]
Last Update: Tuesday, Jan 11, 2022 02:28 [IST]
Tourism body appeals State for prior info before sudden notifications
KUNAL RAI
GANGTOK,: United Silk Route Tourism Development Association (USRTDA) has appealed the State government for prior information to tourism stakeholders regarding new policies and notifications. This will help us to plan and work accordingly so that visitors and tourism stakeholders are not inconvenienced, said the association at a press meet here on Monday.
The USRTDA further appealed the State government to give odd-even traffic exemption to J-category taxis and local cabs as provided to luxury tourist vehicles.
Owing to Covid surge, the State government had announced on January 9 strong restrictions on movement and gathering of people, operation of commercial establishments and mandatory Covid negative certificate for Sikkim entry. The restrictions came into force from January 10.
USRTDA spokesperson Roshan Rai said: "The sudden notification is causing inconvenience to tourism sector. The tourists are suffering and entire tourism stakeholders have been hit hard."
Rai maintained that the odd-even vehicle movement system has greatly inconvenienced the tourism sector and the tourists. "We appeal the State government to facilitate some relaxations for the time being. The odd-even system is causing problems as many tourists who have booked the cabs are on the way. Such sudden restrictions will cause huge loss for the stakeholders," he said.
"We are taking forward the 'one family, one entrepreneur' vision of the State government and many youths are interested in the tourism industry. However, if we initiate policies that are not tourist friendly, the negative remarks from them can have a bad impact on entire tourism sector," said the USRTDA.
The association further requested the State government to establish a Tourism department office and Motor Vehicle Inspector (MVI) office at Rongli so that permits can be issued from there itself instead of coming to Gangtok.
"There are about 200 tourism stakeholders in our association and in one good season, the tourism business done come to around Rs. 100 crore. If the offices of Tourism department and MVI are established at Rongli, permits to Nathu La for both vehicles and bikes can be issued there," said Rai.
Rai added that the USRTDA welcomes the ban on plastic water bottles by the State government. At the same time, we appeal the government to install safe drinking water facilities at different identified locations for the convenience of all travellers, he said.
"We also request the government to set up an independent committee to examine the financial loss suffered by the tourism sector during the Covid pandemic and provide a fair monetary relief to those dependent on tourism."
The press meet was also attended by USRTDA president S. Sherpa, executive member Bivek Rai and others.