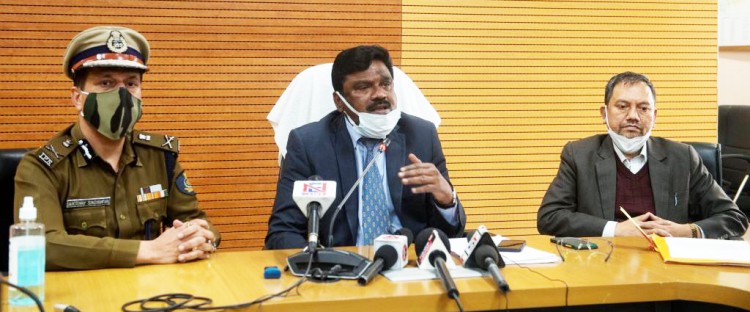 Wednesday, Apr 07, 2021 07:00 [IST]
Last Update: Wednesday, Apr 07, 2021 01:25 [IST]
Tourists can undertake Covid testing upon Sikkim arrival
GANGTOK,: The State government clarified on various practical issues emerging from the new Covid management SOPs while more review seems to be needed on questions beyond tourists and night curfew.
Firstly, it is not mandatory for tourists visiting Sikkim from April 7 to have a Covid negative certificate through RTPCR tests conducted 72 hours before arrival.
Tourism secretary Kuldip Chettri and principal chief engineer Prakash Chettri at a press meet on Tuesday informed that as per a State government notification of March 31, it is not mandatory to have a Covid negative certificate for tourists to enter Sikkim but once in the State, they need to undertake RTPCR test. "Tourists can enter Sikkim but they need to stay in hotels or homestays and undergo RTPCR tests. If the report comes negative, they can go out and in case of Covid positive report, they have to undergo quarantine," they said.
The responsibility of ensure Covid testing for tourists (checking in without Covid negative report) would be on the respective hotel management or homestay operator.
Health principal secretary K. Sreenivasulu added that the State government is creating quarantine centres in each district for tourists who are found Covid positive in Sikkim. Similar facilities would be placed for family members accompanying the Covid positive tourist, he informed.
To a question of fastracking RTPCR tests for tourists, the Health principal secretary pointed out that results of RTPCPR tests at new STNM Hospital viral lab are given within a day.
Regarding the night curfew, special DGP Akshay Sachdeva said no vehicular movement is allowed from 10.30 pm to 6 am in Sikkim except for emergency services and goods carriers. The restriction also applies to vehicles carrying tourists, he said to a media question.
To another question, the special DGP said it is a challenge for the police to ensure social distancing in crowded public places as tourists have started arriving in Sikkim.
"In 2020, it was easy to ensure social distancing in public places like M.G. Marg as there were no tourists. Tourists have started arriving this year and consequently, places like M.G. Marg gets crowded. It is a challenge to have social distancing and in such situation, people should act like conscious citizens and following the safety protocols like wearing face masks and using hand sanitizers. We appeal the people to cooperate with us by undertaking their responsibilities on Covid safety protocols," said Sachdeva.
And then there are issues that need further clarity.
It was asked by the media whether a Covid vaccinated tourist would have to have a Covid negative certificate or get tested here in Sikkim. If so, then what is the validity of doing Covid vaccination?
On this, the Tourism officials suggested that that tourists, even those who did Covid vaccination, should come with a Covid negative report. It would be convenient for them as they would not need to get tested here, they said.
The Health principal secretary added the question of giving importance to either Covid vaccination report or RTPCR negative test report is under consideration by the Union government. We are waiting for proper guidelines from the Centre on this, he said.
To the question on how the State government is monitoring migrant labourers coming to work in various construction projects here, the Health principal secretary said no specific SOPs in place for now.
Sachdeva added that the State administration is working on these new issues and are being considered. Clarification would be given in coming days, he said.