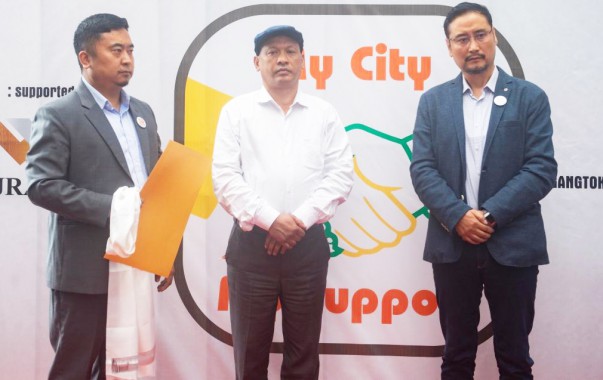 Thursday, Jun 30, 2022 11:15 [IST]
Last Update: Thursday, Jun 30, 2022 05:45 [IST]
Vajra World partners with GMC's 'My City, My Support' campaign
KUNAL RAI
GANGTOK, : Vajra World at Baluwakhani here would be maintaining and keeping clean the 200m public stretch in its surroundings as a partner of Gangtok Municipal Corporation's 'My City, My Support' campaign.
The campaign's first authorization letter was presented to Vajra World management during the 'My City, My Support' launch by the GMC on Wednesday.
Mayor Nell Bahadur Chettri handed over the authorization letter to Vajra World proprietor Ugen T. Ladakhi at the inaugural programme. The function was attended by deputy Mayor Tshering Palden Bhutia, councillors and GMC commissioner H.K. Chettri along with Vajra World directors Guru T. Ladakhi and Pema T. Ladakhi, general manager Manisha Ghimiray and team.
As per the authorization letter, the GMC has partnered with Vajra World for the responsibility of beautification and maintenance of around 200 m public stretch starting from North Sikkim taxi stand to periphery of Sai Mandir premises.
Vajra World, the State's first mall, is located between the North Sikkim taxi stand and the Sai Mandir. As an additional responsibility, the mall management has also come forward to maintain all the streetlights in the area.
In his inaugural address, the Mayor thanked Vajra World proprietor Ugen T. Ladakhi, his family and the entire team for the 'My City, My Support' partnership.
"The partnership is just the beginning. In days ahead, we plan to rope in other business houses and local entrepreneurs in this campaign," he said.
Chettri highlighted about the ban on single-use plastics from July 1 under which 19 items are prohibited. He urged aspiring entrepreneurs to produce alternatives for such banned single-used plastic. He appealed the people for the success of the ban on single-use plastics.
Deputy Mayor Tshering Palden Bhutia shared under the campaign, the civic body seeks participation from the citizens for the upkeep of Gangtok and to reduce dependency on the government. She thanked the Vajra World for extending support.
GMC commissioner H.K. Chettri thanked Vajra World for being a partner in the campaign which he said was unique and first of its kind. Such support encourages us in keeping the city clean and maintaining it well, he said.
GMC additional chief town planner Gary Chopel shared the new innovative ideas are being initiated by the GMC to maintain Gangtok and keep the State capital clean by engaging the local entrepreneurs and citizens. This is a first of its kind collaboration for keeping Gangtok clean with participation from the citizens, he said.
Vajra World general manager Manisha Ghimiray said the Vajra World is excited to be the first partner of the 'My City, My Support' campaign initiated by the GMC. "This is an opportunity and has its challenges too. However, we feel that if all the citizens and business houses come together we can maintain and keep our city clean and beautiful," she said.