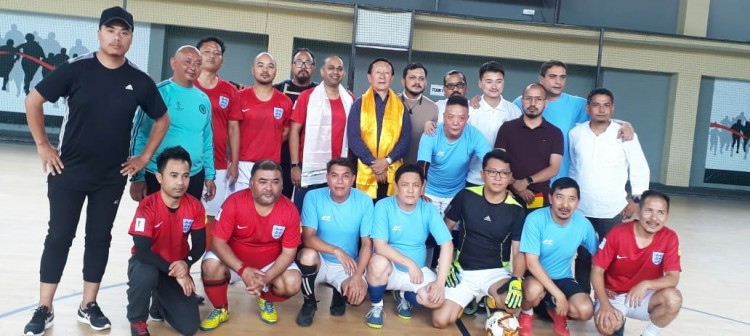 Monday, Jun 27, 2022 05:15 [IST]
Last Update: Monday, Jun 27, 2022 23:38 [IST]
Veterans' futsal tournament kicks-off
KUNAL RAI
GANGTOK,: A State-level veterans' futsal tournament kicked-off today at Aakraman Sports Arena here. The tournament will conclude on June 30.
The inaugural ceremony of the tournament had Prince Jigmee Wangchuk Namgyal as the chief guest and Roads & Bridges chief engineeri Hari Shankar Sharma as the guest of honour.
Futsal Association of Sikkim (FAS) president Remon Chettri said the torunaemtn is first organised by them after a Covid lockdown.
He expressed his happiness to see the turnouts of the teams for the tournament. A total of 12 teams have registered for the tournament which is really encouraging, he said.
We have planned to organise inter-district, inter-constituency and State-level open tournament in future, Chettri said. "The motto of FAS is 'Rise as One' wherein we all will just play the game keeping aside all the differences that exists. We want veterans to be an ambassador for the youths to bring fitness revolution and want to inculcate the fitness habit amongst all youths of the State. "
Prince Jigmee Wangchuk Namgyal, in his address, said, "I am really surprised to see such good quality facility here at GMC sports arena. The younger generation of the State will definitely take advantage of the facility and in future will definitely bring trophies from good tournaments at the national and international level. Futsal is good for the veterans too as this keeps them healthy and fit." The prince also shared his football days in school and university level in the UK and the USA.
"I was the captain of my school team as well as captain in the semi pro team in amateur league in Houston, Texas where we did well. I hope that the youths of Sikkim will definitely shine in this game in future" the Prince said.
A total of four matches were played today wherein Sikkim Express, Hill Stone FC and Techno Civil FC won their matches and progressed into the quarter finals.