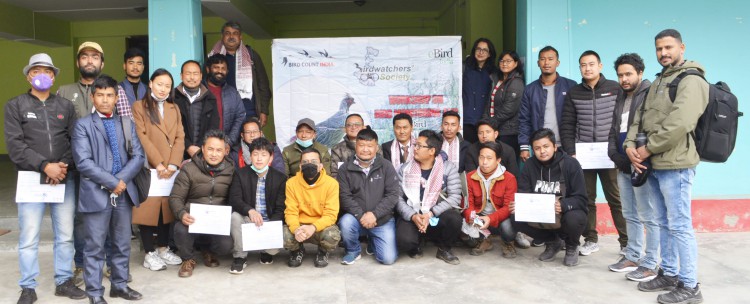 Thursday, Jan 14, 2021 07:30 [IST]
Last Update: Thursday, Jan 14, 2021 01:56 [IST]
Workshop at Pakyong for local birding enthusiasts
AJAY THAMI
PAKYONG,: A daylong workshop on bird monitoring and eBird application was organized by Bird Count India in association with eBird India and Birdwatchers Society, Kolkata, at Pakyong today.
Ashwin Viswanathan, research associate of Bird Count India, and Birdwatchers Society secretary Sujan Chatterjee were the main resource persons. The workshop was attended by birders from Pakyong, north district, West Bengal and Forest personnel from Pakyong subdivision.
The resource persons informed that bird watching helps nature conservation in many ways. They deliberated on abundance, distribution, migration and trends on bird watching. They also informed about Birdcount India website which helps budding birders on handling binoculars or other related topics. Birdwatchers are exponentially expanding day by day, the resource persons added.
All the participants were given certificates by the organizers.
The organising team thanked well-known birder of Sikkim, Kusal Gurung, for arranging the workshop.