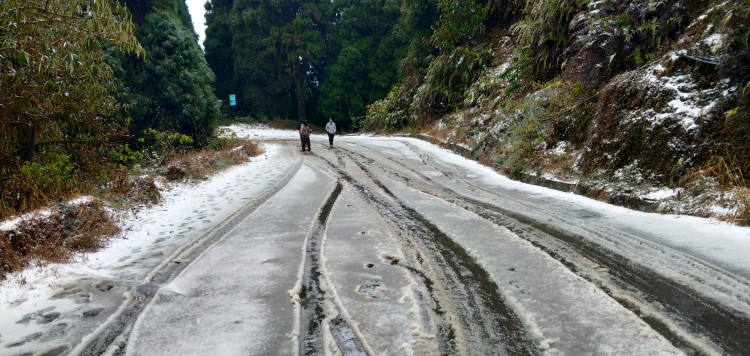 Friday, Jan 21, 2022 12:00 [IST]
Last Update: Friday, Jan 21, 2022 06:16 [IST]
Year's first snowfall at Tiger Hill
DARJEELING, : Tiger Hill, about 12 km from here and standing at a height of 2,560 metres, saw light snowfall on Thursday afternoon. It is the second snowfall in Tiger Hill this winter with the last snowfall reported in December.
About 2 inches of snow accumulated at the famous sunrise spot. Nearby but bit lower areas like Ghoom and Jorebungalow saw a mix of sleet and snowfall briefly.
As soon snowfall news spread, many people mostly locals were seen thronging to Tiger Hill on their vehicles. Most were unable to drive all the way up due to slippery roads. They left their vehicles midway and decided to hike uphill not deterred by the slippery road or the cold.
"I had to see snowfall this time as though I am from Darjeeling, I have never experienced it as whenever its snows I am not here. What would be even better was if I could actually see snow falling," said Dipesh Ghatraj, a local.
Snowfall in the town area of Darjeeling and Tiger Hill had taken place on December 29, 2021.
Higher altitude areas like Sandakhpu also experienced snowfall.