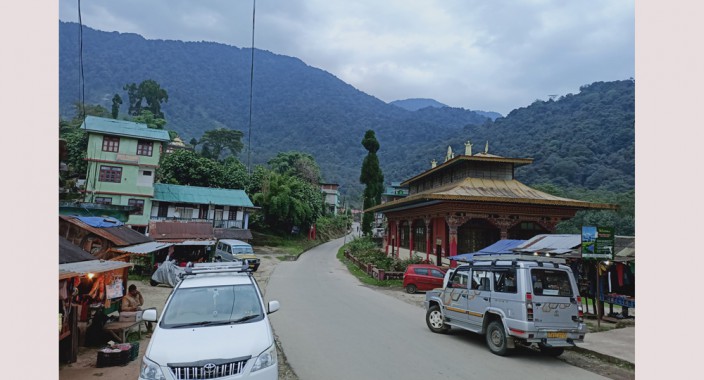 Wednesday, Oct 21, 2020 10:30 [IST]
Last Update: Wednesday, Oct 21, 2020 04:47 [IST]
Yuksam opens for tourism
PRITAM LAMA
GEYZING: Yuksam which had closedits door for tourists despite reopening of tourism in State on October 10 has withdrawn its decision. Now, the tourism destination of Yuksam is open for tourists.
One of the major tourism attractions in Sikkim, Yuksam is a getaway to the the popular Dzongri-Goechala trek and Singalila and Kasturi round trek. Because of Covid fears, the people of Yuksam had imposed ban at local level earlier.
"Yuksam is open for tourism after a through consultation with the local community and tourism stakeholders of Yuksam and adjoining areas," said SKM tourism wing secretary Phumbhi Bhutia.
The decision was taken in a meeting at Yuksam today. The meeting was chaired by Yuksam BDO Samber Man Limboo and attended by SKM district coordinator (West) Nandu Gurung, SKM tourism wing secretary Phumphi Bhutia, SKM tourism wing coordinator Suk Rani Limboo, gram panchayats, KNP officials and local tourism stakeholders.
The meeting deliberated on safety measures and precautions to be taken against Covind-19.
Local tourism stakeholders expressed their happiness and supported the decision of resuming tourism.
KNP range officer Tenzing W. Bhutia said after submitting the required permits from Tourism department, requisite documents and fees, the trekkers will be allowed to enter into Khangchendzonga National Park (KNP) for Dzongri-Goechela trekking.
BDO Samber Man Limboo stressed on strictly following the government issued SOPs. "We must follow the State government's decision and guidelines. Tourism sector being worst-hit sector, the decision of the government is in favour of its people," he said.
Meanwhile, the west district administration hasdirected the gram panchayats of some areas which imposed restrictions locally for tourists to lift their restrictions and resume tourism activities in their areas.
A tour guide from Yuksam,Tashi Bhutia said the resumption oftourism is a welcome move. "We suffered a lot during the lockdown as we are involved in tourism sector for livelihood. Resuming tourism in the State is a welcome move and we wholeheartedly support for the same."
Dhan Raj Gurung, a travel agent from Yuksam,said: "Tourism plays a vital role in the economy of our place and life. There are a lot of enquiries from domestic and international tourists for visiting Sikkim, especially for Dzongri-Goechela trek but such locally imposed bans puts us in problem."
Yuksam is popular for adventure tourism. Ninety per cent oftourists visit Yuksam for trekking, mountaineering and adventure purposes.Almost 80% of local people depend on tourism sector.
SKM district coordinator Nandu Gurung thanked Chief Minister P.S. Golay for taking the bold decision of resuming tourism in the State. He informed that Tourism department has already started issuing trekking permits.