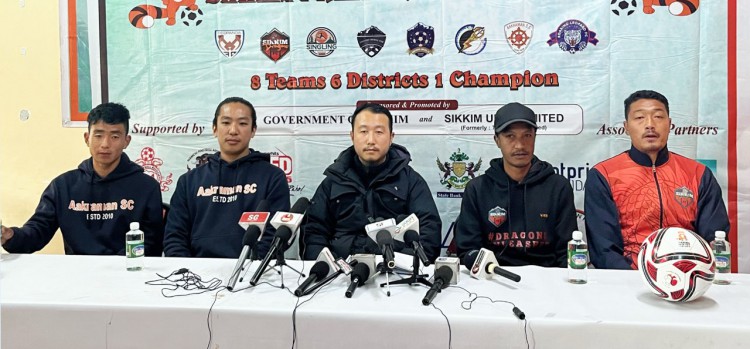 Monday, Jan 30, 2023 08:30 [IST]
Last Update: Monday, Jan 30, 2023 02:48 [IST]
Aakraman FC to face Dragons FC in SPL opener
JIGMEE CHODEN
GANGTOK,: Sikkim Aakraman Football Club will face Sikkim Dragons FC in the opening match of Sikkim Premier League on Monday.
Members of the two clubs spoke with media in a pre-match press conference held at Paljor Stadium on Saturday.
Aakraman captain N. Lepcha and coach Tashi N. said the team is "perfectly balanced" having a blend of old and new players.
Aakraman have acquired one player of foreign nationality, and three non-Sikkimese players for the league.
Likewise, Sikkim Dragons have three players from Ghana and one from Manipur.
"We too have involved senior players as well as upcoming ones for the league," said captain Kunzang Bhutia.
The captain and assistant coach of Sikkim Dragons acknowledged the benefits emerging from the SPL.
Aakraman said, "The league is a great way to revive the Sikkimese football scene that has been dead for a good time now."
Both the teams urged for support from Sikkim football fans towards the Sikkim Premier League.