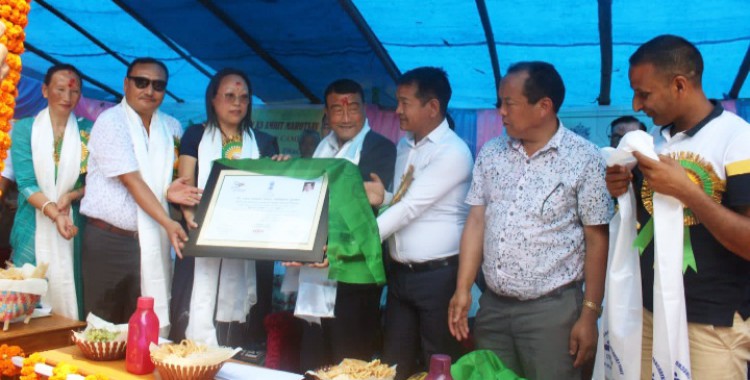 Tuesday, Apr 26, 2022 07:15 [IST]
Last Update: Tuesday, Apr 26, 2022 01:44 [IST]
Award winning Lingchom Tikjya GPU celebrates National Panchayati Raj Day
KUSH HANG LEEWANG
GEYZING,: The Lingchom Tikjya GPU under Yangthang constituency on Sunday held a special Gram Sabha at the village administrative centre to mark National Panchayati Raj Day 2022.
Deputy Speaker Sangey Lepcha was the chief guest for the Gram Sabha also attended by zilla adhyaksha (west) Devika Subba, upa-adhyaksha Ashok Gurung, Geyzing SDM Gopal Chettri, ADC (Dev) Surat Gurung, DPO Ganga Prasad Sharma, panchayat president Phulman Subba, zilla and ward panchayats, and local villagers.
This year West District Zilla Panchayat (WDZP) and Lingchom Tikjya GPU have been conferred with Deen Dayal Upadhyay Panchayat Sasaktikaran Purashkar in zilla panchayat and gram panchayat level respectively. The special Gram Sabha was also the part of celebratory event organized by Lingchom Tikjya GPU.
At the outset, the report of Lingchom Tikjya GPU was placed in Gram Sabha wherein various public welfare works and projects initiated through GPU were highlighted. The locals were informed about success stories and achievements of GPU in different sectors since the inception of Panchayati Raj system in Sikkim. They were also made aware about various public welfare schemes initiated through Panchayati Raj system.
In his brief address, the deputy Speaker congratulated WDZP and Lingchom Tikjya GPU for winning this year's Deen Dayal Upadhyay Panchayati Raj Sasaktikaran Purashkar and termed the awards as fruits of dedication and selfless service on the part of zilla panchayat and gram panchayat unit.
"It is a moment of pride for both WDZP and Lingchom Tikjya GPU. Awards mean recognition of your sincere service to the society and fruits of your dedications", he said.
Lepcha expressed that Lingchom Tikjya GPU has set an example for other GPUs about how a sincere and dedicated service could be recognized in the national forum.
Addressing the gathering, the zilla adhyaksha (west) reflected on various developmental programmes executed through West District Zilla Panchayat under Panchayati Raj system. She added that sustainable goals through the system are what WDZP has always pitched for. She further spoke about effectiveness of power decentralization through Panchayati Raj system for catering to services required in different sectors.
Lingchom Tikjya GPU panchayat president Phulman Limboo termed Deen Dayal Upadhyay Panchayati Raj Sasaktikaran Purashkar conferred to the GPU as a most coveted one. He added that the GPU deserved the national award considering the sincere services provided by the GPU in the various sector since a long time.
Limboo maintained that national award was a collective effort of not only panchayat members but also the people of GPU who worked in tandem with GPU.
Dedicating the award to the people of Lingchom Tikjya GPU, Phulman Limboo said, "Each and every individual, directly or indirectly have contributed for enabling the GPU to work on the path of progress and prosperity. This award goes to entire people of GPU."