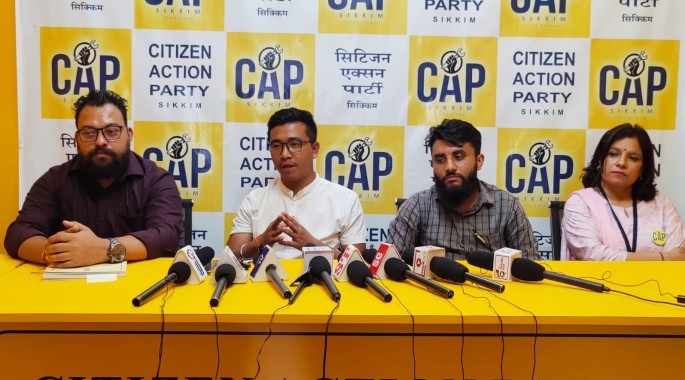 Friday, May 12, 2023 07:45 [IST]
Last Update: Friday, May 12, 2023 02:07 [IST]
CAP reminds SKM about its CBI promise, demands action on CAG report
KUNAL RAI
GANGTOK,: Former State BJP president DB Chauhan, who had recently joined Citizen Action Party (CAP)-Sikkim, has been appointed as the party's working president (organisation).
Similarly, nine more members were appointed in various capacities of the CAP-Sikkim and its frontal organisations. Prakash Parajuli, who was with SPYF earlier, was designated as CAP-Sikkim spokesperson.
Speaking to media at the CAP-Sikkim head-office in Adampool here on Thursday, party spokesperson Albert Gurung mentioned that the CAP-Sikkim held its second CEC meeting where important issues related to Sikkim were discussed.
Gurung reminded that the SKM, while in opposition, had promised to bring CBI for investigating into corruption allegations here. Corruption has reached its peak in Sikkim but till date, no CBI probe has been reported against anyone here, he said.
"It is learnt that the Centre is planning an amendment in the Delhi Police Establishment Act wherein the Central investigating agencies do not require permission from the State governments to initiate investigations. We welcome this and will write to the Union Home minister extending our support to this proposed amendment," said the CAP-Sikkim spokesperson.
Gurung mentioned that irregularities by departments have been reported by the CAG in its recent report.
"However, no action or even discussions have done by the Public Accounts Committee and the reason is that the committee chairman is from the ruling party. In Parliament and State Assemblies, the Public Accounts Committee is headed by the opposition party leader and after studying the CAG report, they send a report to the State Vigilance department for action. However, this is not happening in Sikkim," said the CAP-Sikkim spokesperson.
Gurung said if CAP-Sikkim is elected to power, it will appoint the leader of the opposition in the Assembly as the chairman of the Public Accounts Committee so that an impartial action is taken. He said the CAP-Sikkim, if it forms the government, will also initiate CBI probe on alleged corruption committed during the SDF and SKM governments.
Regarding the Sikkim Public Service Commission (SPSC) row, Gurung maintained that the recent notification by the commission to allow all candidates to appear for the mains exam is not justifiable. "We feel that the notice issued by the SPSC is to hide the irregularities of the preliminary exam. Our demand is that the preliminary exam is re-conducted along with a complete change in the SPSC board by dissolving the existing board," he said.
The press conference was also addressed by spokespersons Prakash Parajuli, Tika Ram Nepal and Beena Sharma.