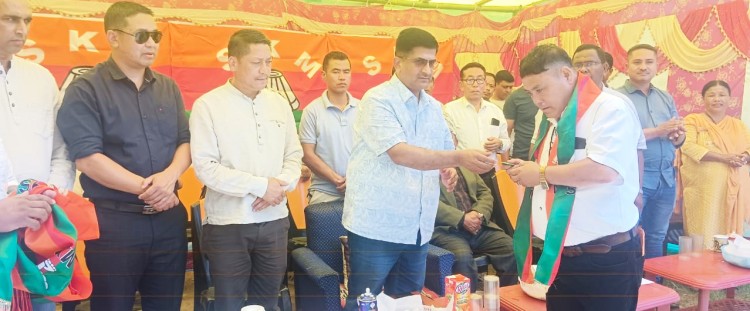 Friday, May 12, 2023 07:30 [IST]
Last Update: Friday, May 12, 2023 02:03 [IST]
CAP-Sikkim, a product of SDF: Loknath Sharma
KUSH HANG LEEWANG
GEYZING, May 11: Minister Loknath Sharma today said the Citizen Action Party-Sikkim was a product of SDF which led Sikkim for 25 years and left the State in complete shambles.
He claimed that two political outfits trying to intimidate people with delusive call of Sikkim's safety and reformation has the same root in SDF.
"After remaining in power for 25 years and their humiliating ouster, some political leaders suddenly came to realise that Sikkim is unsafe and reform is necessary. Were they sincere enough to work for safety and reformation of Sikkim when they were leading the State for 25 years? Sikkim is safe and secured under SKM," said Sharma, while addressing a ward level meeting of SKM at Meeyong under his constituency of Geyzing-Bermiok.
He advised that people should not get carried away by "delusive promises" and "hefty claims" of the opposition parties.
In his address, Sharma called for coordination among the party workers and urged them to work to strengthen the party from grassroots level. He asserted that SKM is strong in almost all the wards of Geyzing-Bermiok constituency and hailed grassroots level committees for sincerely working for the party. "Our party has a strong and responsible team in the constituency in various party based committees. Serving the common mass should be the foremost objective of such team", Sharma said.
He reiterated that SKM would form the government for the second time in 2024 and in order to guarantee an absolute victory of SKM, he called for sincerity, loyalty and discipline among party workers. He advised people not to get worried about the matter related to party candidature in upcoming assembly election and urged them to focus only on SKM leader PS Golay and party's symbol of lamp. "Do not worry about who will be your candidate in upcoming assembly election but your focus should be about victory of table lamp and its leader PS Golay. Let us work with a vision and thought that," he said.
Sharma shared about various developmental projects and initiative taken by SKM government in Geyzing-Bermiok constituency and assured to take care of developmental aspiration of people in future as well. He said, "Unlike 25 years' rule of SDF, Geyzing Bermiok constituency has seen a greater development under SKM and people should have faith in the party."
On various demands placed by the public of the ward such as upgradation of Meeyong primary school to junior high school, road restoration works and others, Sharma asserted to look after all the demands placed by the locals.
The ward level meeting was also held at Daragaon ward of Yangsum GPU. The ward level committees for Meeyong and Daragaon wards were also constituted and various portfolios were assigned to the local party functionaries.