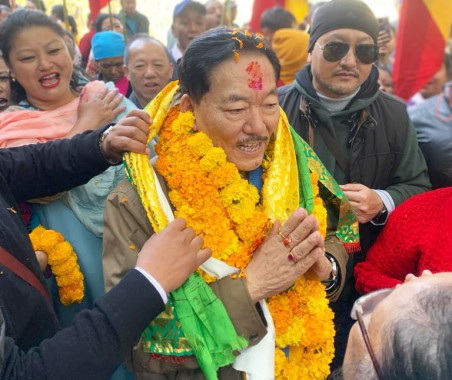 Tuesday, Nov 29, 2022 08:45 [IST]
Last Update: Tuesday, Nov 29, 2022 03:05 [IST]
Chamling sounds SDF's bugle for 2024 polls with 'Save Sikkim' call
BIJOY GURUNG
SDF president commences on a 50-day Sikkim tour from Rongli
GANGTOK,: Former Chief Minister Pawan Chamling on Monday launched his 2024 Assembly election campaign on Monday with a robust 'Sikkim Bachaow' call while hinting that polls in Sikkim could be preponed by six months.
Rongli town in Chujachen constituency, East Sikkim was the venue from where the SDF president hit the road on a 50-day election campaign.
"There are only two political roads for Sikkim in 2024. One road is to 'Save Sikkim' which is led by the SDF and the other road is 'Destroy Sikkim' under the SKM. All the opposition parties and those who love Sikkim must keep aside their differences and past issues and come with SDF to save our land," said Chamling.
He was addressing the SDF workers after inaugurating the constituency-level SDF party office at Rongli bazaar.
Earlier speaking to media, Chamling said he is undertaking a 50-day campaign with the 'Mato Bachaow, Sikkim Bachaow' call across the State, which is also his election rally.
"This can be taken as my election campaign as the next Assembly election is about 15-16 months away. The next Assembly election may happen six months earlier also. Hence, this campaign is also my election campaign," Chamling said. He asserted that the SKM government has failed on every front including Article 371F protection.
"The special Constitutional provisions for Sikkim and Sikkimese under Article 371F are being removed away one by one by the SKM government. Article 371F protects Sikkim and Sikkimese but the present government is working to violate these special Constitutional safeguards for Sikkim," said Chamling.
The former Chief Minister maintained Sikkim is presently under a "jungle raj". "The present SKM government is doing a jungle raj. It has failed miserably on every front and has not fulfilled even one per cent of its 2019 election promises. On the request of the people of Sikkim, the SDF has come forward with this 'Save Sikkim' campaign", he said.
In his public address, Chamling mentioned that the SDF has become "neat and clean" as all those "corrupt and exploiters" party functionaries – also responsible for the defeat in 2019 elections – have gone into the SKM camp. "People all over Sikkim are eager to bring SDF back to power in 2024. Four years have gone by and only one year is left for the SDF's return to government. People have made up their mind. Don't worry," he said.
Chamling also expressed his gratitude to the people of Chujachen constituency for electing SDF candidates in every Assembly election for the past six terms.
"I am very grateful to the people of Chujachen constituency. You have elected our candidates six times. For the seventh term, please select your candidate for SDF and ensure the candidate's victory. Favour SDF for the seventh time and give me an opportunity to return the favour," said Chamling.
The former Chief Minister assured to implement long-term developmental projects and welfare schemes in Chujachen constituency that will suffice the local people and their children for "eternity".