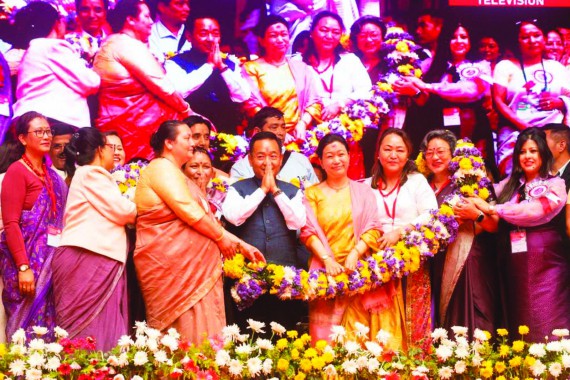 Wednesday, Mar 15, 2023 05:45 [IST]
Last Update: Wednesday, Mar 15, 2023 00:10 [IST]
CM announces women's college, 50% reservation in upcoming police recruitment
GANGTOK, : Chief Minister PS Golay on Tuesday announced that the State government will establish an exclusive college for women in Sikkim with the institution to be named after a celebrated woman of the State.
The Chief Minister made the announcement while addressing the International Women's Day celebration organised by SKM Nari Shakti at Saramsa Garden near Ranipool. He informed that the proposed women's college would have all required facilities including a hostel.
Golay informed that 1,000 police personnel are being recruited shortly wherein the women reservation would be hiked to 50% from the existing 30%. He also announced to enhance the subsidy to 50% for women entrepreneurs under the State government's skilled youth startup scheme. More than 1600 beneficiaries have been covered under this scheme which offers a 35% subsidy, he informed.
The Chief Minister appealed the women in Sikkim to take full advantage of the schemes and policies introduced by the State government. He focused on schemes and incentives of the State government towards improving fertility rate in Sikkim.
The incentives include financial support for doing IVF, one-year maternity leave for government employees and increment in case of having more than one child.
For women who are not government employees, the State government would be giving a child maintenance grant of Rs. 5,000 per month for a year for second child birth and Rs. 10,000 per month for a year for the third child, said the Chief Minister.
The State government is taking up such measures as the fertility rate of Sikkim has drastically declined and we are giving such incentives to boost child birth rate in the State, said the Chief Minister.
In his speech, the Chief Minister asserted that the SKM government is committed towards women empowerment and pointed out that women officers are heading several departments at present. I am confident that a day will come when the State will be governed and led by women, he said. He encouraged women to come forward and give leadership in every sector including politics.
On the occasion, the Sikkim State Commission for Women felicitated the Chief Minister for his contribution in the advancement of women empowerment.
The organisers, SKM Nari Shakti also felicitated all the women zilla adhyakshas, women panchayats, deputy Mayor, Gyalsingh DC and women heads of various departments.
MLA Sunita Gazmer, also the Nari Shakti in-charge, in her address highlighted the steps taken by the SKM government towards women empowerment.