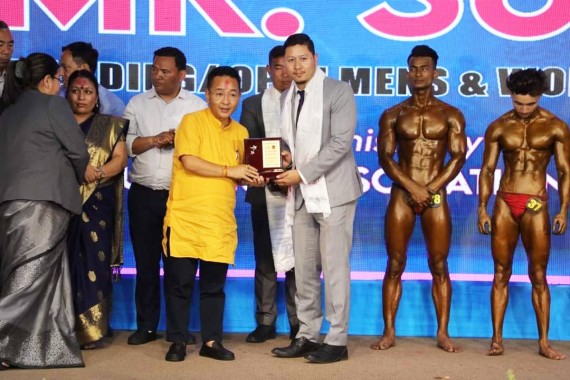 Sunday, Apr 23, 2023 08:15 [IST]
Last Update: Sunday, Apr 23, 2023 02:37 [IST]
CM attends bodybuilding championship at Jorethang
NAMCHI,(IPR): Chief Minister Prem Singh Tamang attended the 5th edition of Mr Sukhim, 2023 'Senior/Junior Body Building Open Men's and Women's Sports Physique' organized by Body Builders Association of Sikkim at Karfectar, Jorethang today.
Present amongst others were ministers Kunga Nima Lepcha and Bhim Hang Subba, area MLA Sunita Gazmer, advisors, chairpersons, Namchi DC M. Bharani, Namchi SP Manish Kumar Verma along with the local gentry and the public.
Addressing the gathering, the Chief Minister congratulated the organizing committee for successfully hosting the sporting event at Jorethang. He lauded the organizing committee for holding such competition in sub-division level which he said can capitalize on the economy of the rural region and gives impetus and other opportunities to the local youths. Further, he spoke on how the convergence of sports in society can benefit as a whole and discourage the youths from the menace of substance abuse. He encouraged the youths to take up sports as a profession and bring laurels to the state. The State government has always been proactive to assist the youths in bringing accolades in the field of sports, literature, academics, and various other disciplines, he added.
Speaking on the rural challenges and other difficulties faced by the public of Mabong village under Zoom-Salghari constituency, the Chief Minister announced that 100 Sikkim Garib Awas Yojana will be sanctioned to help in improving the living standard of the villagers. Further, the village shall be adopted by the Chief Minister in the next financial year. In addition, CM scholarships to the students of the villages shall be provided.
Additionally, the Chief Minister announced to provide grant-in-aid to Body Building Association of Sikkim, Amaa Samuha (Majhi Goan, Jorethang), Karma Sudhar Sangha (Jorethang) and Sandeep Gurung from the Chief Minister Discretionary Grant.
It may be mentioned here that a total of 60 participants took part in the men's and women's categories namely 50 kg, 60 kg and 65 kg and above. Overall, Sachin Gurung stood first, while Binay Rasaily and Alison Chettri stood second and thrid respectively. In the women's open division, Anita Chettri stood first, Ozzeshwari Rai came second and Nima Doma Tamang secured third position.
The program also saw the felicitation of R. Kartikeshwar, the winner of Mr Universe 2022 at the 13th WBPF World Bodybuilding and Physique Sports Championship, by the Chief Minister. During the program, various individuals and organizations of Jorethang were also felicitated by the chief guest.