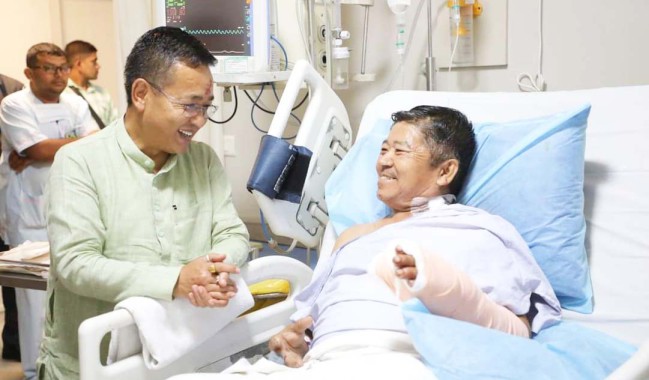 Wednesday, Sep 20, 2023 07:30 [IST]
Last Update: Wednesday, Sep 20, 2023 01:53 [IST]
CM reaches out to Sikkim patients in Siliguri
GANGTOK,: Chief Minister PS Golay on Tuesday met representatives of various organisations and professionals at his official residence Mintokgang.
Following the government's commitment to offering support, the Chief Minister disbursed cheques under the Chief Minister's Discretionary Grants (CMDG) programme. Additionally, patients undergoing medical treatment received financial assistance through the Chief Minister's Medical Assistance Scheme (CMMAS), an IPR release informs.
Later on the day, the Chief Minister visited Neotia Hospital at Siliguri to meet the patients from Sikkim undergoing medical treatment at the private hospital.
An official release informs that Golay's visit was to personally inquire about the health and well-being of each patient. He took the time to interact with each patient individually and provided emotional support besides reassuring them of the government's dedication to their well-being. He also extended financial assistance to all the patients from Sikkim so as to ease their financial burden and facilitate their recovery.
During his visit, the Chief Minister spoke with the Neotia Hospital doctors to understand the Sikkimese patients' medical conditions and the progress of their treatment. He urged the doctors to provide the best possible care and assistance to all patients from Sikkim.
"This visit to Neotia Hospital Siliguri is a testament to Chief Minister PS Golay's compassion and commitment to serving the people of Sikkim. His continuous efforts to connect with patients and provide assistance reflect his unwavering dedication to their well-being," the release mentions.
Golay, during his official tours outside Sikkim, has been taking time to meet and extend support to the Sikkimese patients undergoing treatment in Delhi and Siliguri.
On the way to Siliguri, the Chief Minister also attended the puja ceremony at Singtam Bazaar, organized by Ganesh Puja Celebration Committee, Singtam.
The Chief Minister offered prayers on behalf of the people of Sikkim and engaged in meaningful interactions with the dedicated committee members, devotees and local gentry, the IPR release informs.