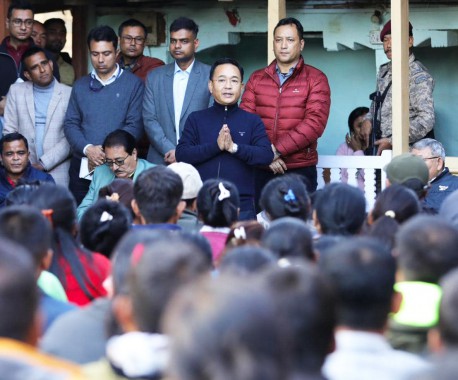 Tuesday, Nov 29, 2022 08:45 [IST]
Last Update: Tuesday, Nov 29, 2022 03:02 [IST]
CM visits Pathing, announces relief measures for landslide-hit villagers
DICHEN ONGMU
YANGANG,: Chief Minister P.S. Golay on Monday inspected the landslide-hit Pathing village under Yangang subdivision and directed relief measures for the affected families.
The over 30 years old slide has damaged the village to a great extent this time damaging eight houses and killing some livestock in the last few days.
During the visit, the Chief Minister handed over Rs. 30,000 each on the spot to 76 affected families from his personal side. He further announced Rs. 50,000 to each affected family as an immediate financial aid under CM Relief Fund. He also announced a relief package of Rs. 1,30,000 to each affected family under CM Relief Fund infrastructure and maintenance.
Interacting with the affected families who are temporarily sheltered at Pathing school and surrounding areas, Golay informed about acquiring and allotting land for them within a year. Until then, the government will construct a temporary shed with proper toilet facilities and area to secure the livestock of the villagers, he said.
Assuring support from the government, the Chief Minister further announced to provide a government job to one member of each affected family on ad-hoc basis as per qualifications. He further assured to set up a new livelihood source for the villagers since they completely relied on agriculture.
Golay directed the Land & Revenue department to acquire land for immediate resettlement of those affected families and also take up a study to know the reason behind this recurring landslide.
Similarly, the line departments were directed to provide potable water to the affected people and other necessary assistance. He directed the Land Revenue & Disaster Management and Mines & Geology departments to visit the area as soon as possible to discern the reason for the landslide.
The Chief Minister was accompanied by ministers Kunga Nima Lepcha, Bedu Singh Panth, Bhim Hang Subba and LB Das, area MLA Raj Kumari Thapa, ADC (Namchi) Anant Jain, SDM (HQ) Chiran Rizal, HoDs and officials of line departments, Namchi and Yangang subdivision, local gentry and the public at large.