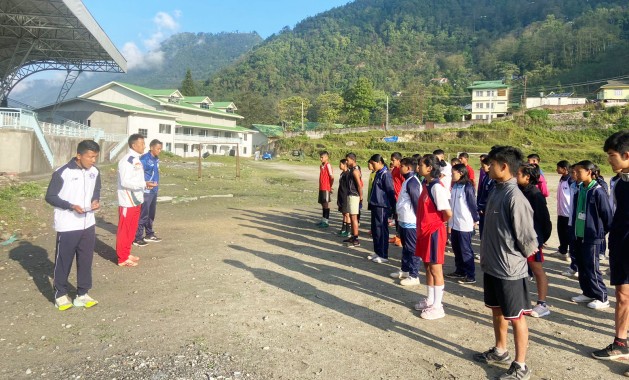 Tuesday, May 23, 2023 06:30 [IST]
Last Update: Tuesday, May 23, 2023 00:50 [IST]
Coaches' bid to instil discipline and ownership among players training at Kyongsa ground
GANGTOK,: Coaches of various disciplines of Geyzing have taken a unique initiative to instil discipline and a sense of belonging among those coming to Kyongsa ground for playing, training or recreational purposes.
Kyongsa ground is located near Geyzing town. Trainees and sportspersons practising at this public ground are attending morning assemblies conducted by their coaches since May 8.
The initiative was taken by Young Boys Football Academy (YBFA) chief coach Namgyal Bhutia, boxing coach Vabiya Gurung and other coaches.
Students and trainees of football, boxing, athletics, cricket and other sports attend the daily assembly which kicks-off with singing of the national anthem. After this, they are sensitized on ground ethics, discipline, moral values and how they should conduct themselves once they are inside the field, a press release informs.
"There are many people from different age groups including the elderly and kids who come to the ground for their own activities. The main aim of this initiative is to encourage everyone to follow ground ethics and rules when they step their foot inside the ground. Discipline and ethics are the basic foundation for success," said the YBFA chief coach.
Athletes coming to play different sports in Kyongsa ground are encouraged to come in proper game clothes. They are also asked to maintain the cleanliness of the ground.
It is very important for every sportsperson to treat the playground like their home, said Namgyal.
Around 50-55 trainees and sportspersons attend the morning assembly and training with their coaches.
The release mentions that the Geyzing senior coaches have made different groups for various sports disciplines with a captain for each group. The captain is to report to the coaches about the progress and performance of their respective teams every Saturday and also to deliver a sport speech.
This initiative has been mainly taken by Namgyal to train the youth in the right direction and to keep them away from bad habits.
On Saturday, the YBFA chief coach also started an initiative to provide a free proper diet meal to all the players gathered at the ground.