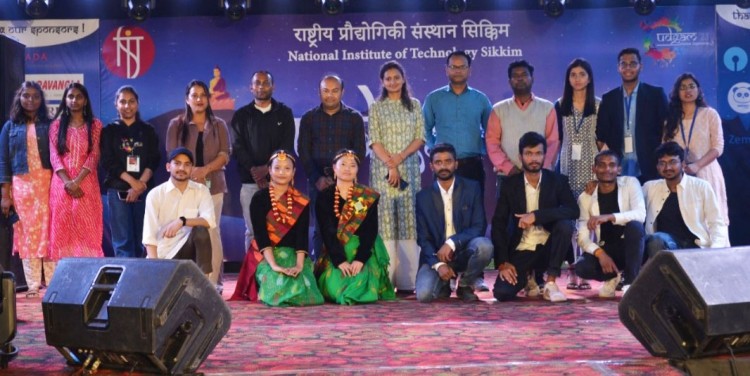 Sunday, Apr 16, 2023 08:15 [IST]
Last Update: Sunday, Apr 16, 2023 02:40 [IST]
Cultural extravagance marks annual cultural festival of NIT Sikkim
GANGTOK,: Annual cultural festival, Udgam 2023 commenced at National Institute of Technology (NIT), Sikkim campus in Rabongla, South Sikkim.
The three-day cultural fest was inaugurated Sikkim NIT director Prof. Mahesh Chandra Govil in the presence of chief guest Dronacharya awardee Sandhya Gurung, Udgam coordinator Dr. Dhananjay Tripathi, Dr. Ravi Srivastava, Dr Saurabh Mallik, and faculty members along with students.
Udgam is a conglomeration of Indian culture and defining unity in diversity, informs a press release.
Prof. Mahesh Chandra Govil expressed his happiness over the successful conduct of the programme.
Dronacharya awardee Sandhya Gurung urged the students to stay firm on their goals and continue on the path to achieving them. She expressed her gratitude to the institute and the director for inviting her as the chief guest of the programme. Students presented magnificent cultural performances enthralling everyone.
The cultural ramp walk was the central attraction, displaying the ethnicities and traditional outfits prominent in our diverse cultural regions, the release mentions.