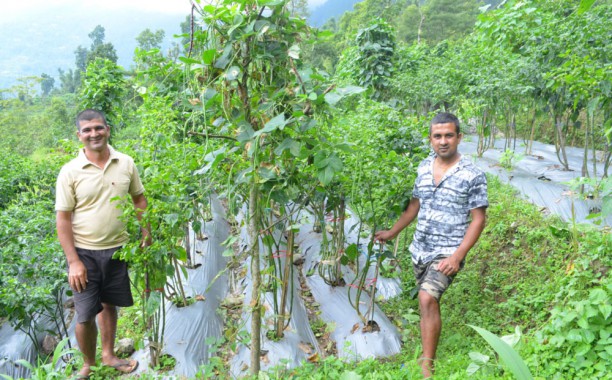 Thursday, Sep 03, 2020 11:30 [IST]
Last Update: Thursday, Sep 03, 2020 06:04 [IST]
Dalley is good business for Mamzey farmers
AJAY THAMI
PAKYONG: The organic Dalley farming has proven a boon for two farmers at Mamzey village,about four km away from Pakyong town. Homnath Luitel and his brother Bal Krishna Luitel are earning lakhs of rupees every year by farming the super-hotDalle, a go-to cherry pepper in Sikkim.
They started cultivating Dalley in large scale since 2017 and have since sold more than 55 quintals of the cherry pepper.
This year the production is expected to increase. "We are expecting to sell more cherry pepper this year. The chilli is ready for sell and we will be selling till December," they added.
At present, Dalley fetches as much as Rs. 480 per kilo in local market.
The two brothers who spent most of their time in their farm have cultivated the cherry pepper in more than one acre of land. Apart from Dalley, theyalso farm different types ofvegetables and fruits including beans, cabbage, carrot, bitter gourd and cucumber.
Kuber Sharma, a field assistant under Horticulture department, informed that the villagers have become chief suppliers of vegetables to local market and have earned a good income.
"We want to make our village a model in terms of producing vegetables, fruits and also promote village tourism in near future. Before eight to nine years, our farmers were doing small scale farming, now the concept has changed and the vegetables production has increased as more young farmers are engaged in the farming sector," said local youth Bikash Bhandari.