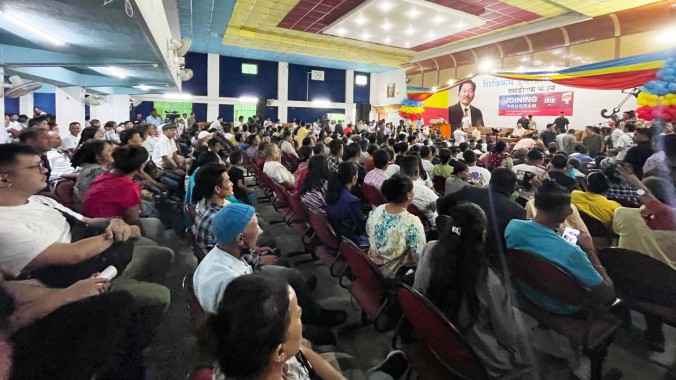 Wednesday, Sep 20, 2023 07:30 [IST]
Last Update: Wednesday, Sep 20, 2023 01:49 [IST]
Election could be held two months earlier, 2024 polls is our last chance to save Sikkim: Chamling
BIJOY GURUNG
GANGTOK,: Former Chief Minister Pawan Chamling on Tuesday directed the SDF workers to intensify their activities as the 2024 election – "the final chance to save Sikkim" - could be held earlier by two months.
"The 2024 election is not an ordinary election, it is the final chance to save Sikkim and people must properly use this opportunity. Election is to take place between December (2023) and April (2024) but all over India, it is speculated that it may happen between December and February. Election may happen at least two months early," said Chamling.
Hence, there is no time left, and our party workers must start working in their constituencies and areas, said the SDF president while addressing a major joining programme held at the SDF Bhawan, Indira Bypass road here.
Sikkim has been timing its Assembly election simultaneously with the Lok Sabha election. Both the General Election across India and the Assembly election in Sikkim are scheduled in April-May, 2024.
The joining activity and speeches by various new entrants stretched the programme till 5:30 pm, where Chamling finally got the turn to address the gathering. Considering the late hour, Chamling restricted his speech to about 30 minutes, wherein he strongly urged the SDF workers to work collectively and to avoid factionalism.
"It is my sincere request to the SDF workers to do team work in their areas and constituencies, and take forward the party in a collective manner. We must avoid groupism if we are to win the 2024 election," said the former Chief Minister.
As per the SDF, a total of 724 members joined the SDF during the programme. Prominent among those were politicians including some senior functionaries from ruling SKM and their supporters, social workers, retired government officers and people from various walks of life. They included Ashis Rai, IK Rasaily, Dr. CB Chettri, Sharad Rai, Nima Sherpa, Kaushal Lohagun, Yojna Rai, Rudra Narsing Shakya, Jenita Sharma, PL Subba, Chewang Dadul Bhutia, ST Tamang and Navin Karki.
Chamling extended his heartiest welcome to all the new entrants and officially declared them as SDF family members.
"The SDF is a party for Sikkim and Sikkimese…nothing is more priceless for us than Sikkim and the people of Sikkim. All those who joined us today, we must all work collectively under the SDF banner to save Sikkim and protect the fate and future of Sikkimese. It is a good sign that so many people are joining the SDF and we have assembled here to ensure the rule of Sikkimese in Sikkim," said the SDF president.