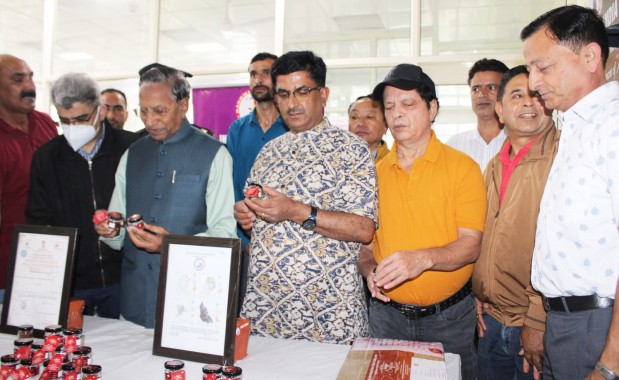 Thursday, Jul 14, 2022 08:00 [IST]
Last Update: Thursday, Jul 14, 2022 02:20 [IST]
Governor-led Sikkim delegation visits saffron town of Kashmir
SRINAGAR, (IPR): The Sikkim delegation to Jammu & Kashmir, led by Governor Ganga Prasad, carried out a visit at Pampore, the saffron town of Kashmir, in Pulwama today. The Governor was accompanied by Agriculture minister Lok Nath Sharma and Sikkim University vice chancellor Prof. Avinash Khare along with the officials.
The Governor and the dignitaries visited the India International Kashmir Saffron Trading Centre (IIKSTC). They expressed keen interest in knowing various technical aspects of processing to packaging / quality evaluation laboratory.
Thereafter, the Governor inaugurated the display of agricultural products and interacted with the exhibitors.
Later, a meeting was held with the officials and farming community at the IIKST in the presence of the Governor.
Governor Ganga Prasad expressed happiness over the tripartite agreement signed on Tuesday and encouraged consistent efforts to make the mission of saffron cultivation in Sikkim successful. Addressing the farmers, he stated that the progress of the farming community is the key factor in nation-building. The Governor was delighted to know that the quality of saffron produced in Sikkim in the pilot phase is at par with the quality of saffron produced in Kashmir. He also focused on other temperate crops besides saffron and advised to take trail cultivation of Kashmiri apple in Sikkim.
Minister Lok Nath Sharma shared that the visit to J&K was fruitful during which they learnt new dimensions of saffron cultivation. He recalled a series of high-level meetings held under the leadership of the Governor to lead the saffron mission towards new heights of achievement. Sharma also touched upon numerous initiatives, particularly the financial incentives given to the farming community in the horticulture and dairy sectors under the leadership of the Chief Minister Prem Singh Tamang.
Vice-chancellor Prof. Avinash Khare also addressed the august house.
Atal Dulloo, additional chief secretary, Agriculture Production department, expressed his delight in the newly-signed agreement. He assured to make the joint venture successful and advised to organise training and experience exchange programmes for the farmers.
Farmers from Saffron Growers Association and local FPOs shared their inputs. On the occasion, the local farmers of Kashmir received cheques of incentives and souvenirs for their exceptional performances from the hands of the Governor and the minister.
On the occasion, the Governor, the minister and the vice chancellor also planted saplings in the premises.