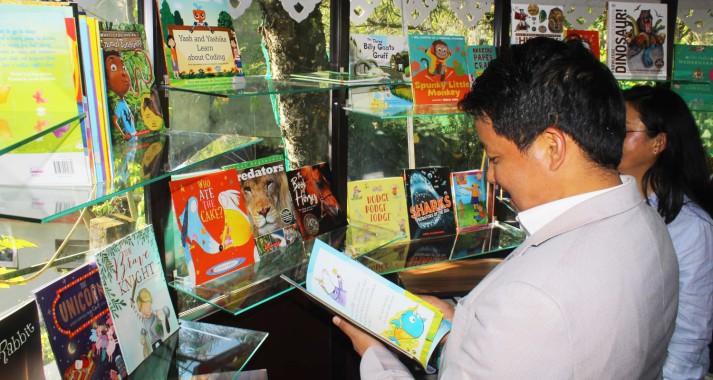 Saturday, Nov 18, 2023 12:30 [IST]
Last Update: Saturday, Nov 18, 2023 06:59 [IST]
Gyalshing district administration promotes reading in schools
GYALSHING, (IPR): The inauguration of the District Children's Library and interaction with school heads under Gyalshing district were held at Zilla Bhawan, Gyalshing, West Sikkim, today.
The programme was organised by Gyalshing district administration with the aim of promoting reading in schools. The school heads representing the 126 schools participated in the programme.
The programme was attended by MP Lok Sabha Indra Hang Subba, Gyalshing district collector Yishey D. Yongda, CEO Subbiah G, deputy director R. Thapa, and departmental officials.
It is to be mentioned here that 'Gyalshing District Reads', the initiative launched by District Administration in June to bring readers together, has now successfully expanded into ten chapters all over the district. The respective chapter curators were also present at the interaction.
Indra Hang Subba, in his address, lauded the unique initiatives on reading undertaken by the district collector and commended her efforts for bringing together the first ever Sikkim Arts & Literature Festival held in May at Yuksam.
The school heads had a pivotal role in inculcating reading habits in children in times of heavy gadget dependency where they hardly turn to books, he added.
The MP encouraged school heads to initiate reading chapters in their respective schools to boost the Gyalshing Reads programme introduced by the DC.
Yishey D. Yongda, during the interaction, encouraged school heads to promote reading habits in their schools, stating that teaching children to read is a foundational step crucial towards their holistic development.
The reading not only fosters effective communication but also lays the groundwork for academic success, nurturing critical thinking and problem-solving abilities, she added. The DC appealed to school heads that the books and reading materials provided to them must be made use of by the students and not relegated to book shelves or locked cabinets within the reading spaces.
The consignment of books provisioned by the district administration under CSR funds was handed over to the respective school heads.
Later, participants attended the inauguration of the new district children's library, located at the Zilla Bhawan complex, followed by read-alouds done by school heads.
The District Administration appealed to all to visit the library and engage in reading.