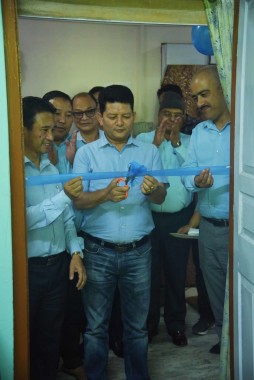 Saturday, Jun 03, 2023 08:15 [IST]
Last Update: Saturday, Jun 03, 2023 02:31 [IST]
Jal Shakti Kendra inaugurated at Soreng
GANGTOK,: District collector Bhim Thatal on Friday inaugurated Jal Shakti Kendra for Soreng district under 'Jal Shakti Abhiyan – Catch the Rain' campaign.
An IPR release informs that the Jal Shakti Kendra would act as a knowledge centre for dissemination of information related to water conservation techniques.
The DC emphasized the importance of water resource maintenance as a key focus area. He informed that five districts in Sikkim, excluding Mangan, are considered water-stressed districts.
The Jal Shakti Kendra at Soreng will be manned by a senior technical officer, two technical officers and a data entry operator.
The DC mentioned that all the officers, volunteers and support staff working for the cause of water shall be called Jal Rakshaks or water guards.
ADC (Development) Gaayas Pega said the objective of the Jal Shakti Kendra is to provide technical guidance and serve as a centre for disseminating information related to water conservation techniques.
He provided an overview of the guidelines of Jal Shakti Kendra and informed that village water sanitation committees have been formed in all 36 GPUs of the district.
Among others, ADM Dhiraj Subedi, Education joint director S.P. Sharma and Agriculture joint director Pranaya Gurung were present on the occasion.