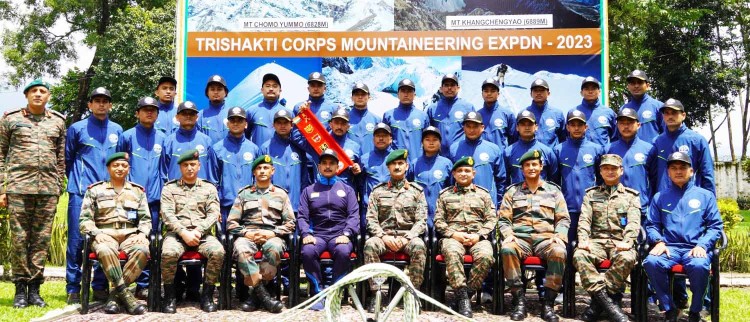 Wednesday, Aug 30, 2023 07:30 [IST]
Last Update: Wednesday, Aug 30, 2023 01:46 [IST]
Joint mountaineering expedition of Indian Army and HMI Darjeeling to Mt Chomo Yummo
GANGTOK, : The Indian Army has announced the launch of joint mountaineering expedition by Indian Army and Himalayan Mountaineering Institute, Darjeeling to Mt Chomo Yummo (6829 m) in North Sikkim.
The expedition was flagged off today by General Officer Commanding of Trishakti Corps.
Mt Chomo Yummo is a deeply respected and revered peak in North Sikkim and is considered as a "female deity". The peak attracts attention of ace mountaineers from across the world.
"The expedition, which is planned to be completed in the month of September, demonstrates Indian Army's on-going commitment to train its military personnel to handle diverse challenges with precision and skill and progress on the path of transformation. In conjunction with HMI, Darjeeling, the expedition will foster a collaborative association towards jointly tackling varied challenges," informs a press release.
"The challenging journey demands physical endurance, strategic thinking and camaraderie as the soldiers navigate through rugged landscapes at extreme altitudes. Their journey will not only be a display of their abilities but also represent Indian Army's unflinching commitment to safeguarding its national security in most arduous terrain. This challenging endeavour is being planned and executed by officers and soldiers of Trishakti Corps and is a testament to Indian Army's resolve to uphold national security, sovereignty and demonstrate its penchant for excellence."