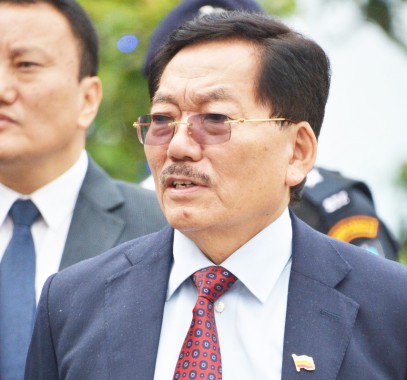 Monday, Nov 28, 2022 08:30 [IST]
Last Update: Monday, Nov 28, 2022 02:57 [IST]
Jorethang incident shows failure of Sikkim's administration: Chamling
GANGTOK,: Former Chief Minister Pawan Chamling has said the assault incident among two groups of youth at Jorethang shows the failure of Sikkim's administration.
A group of youth was seen attacking another group during a tender bidding before the Irrigation office, Jorethang earlier this week.
"The disturbing video of a few of our Sikkimese youth assaulting other youth is the external sign of Sikkim's administration failing under this visionless and corrupt government. This sad visual is an unfortunate advertisement of how our youth have been misguided by this government. It is evidence of how this government has snatched everything from our people," said Chamling in his weekly Sunday press statement.
Chamling, also the SDF president, maintained that the SKM government has completely destroyed Sikkim's economy. "The State budget has been completely diverted to private projects run by non-Sikkimese businesspersons and companies who are the business partners of the Chief Minister PS Golay and some of his colleagues," he alleged.
The former Chief Minister alleged that the SKM government has allocated thousands of crores of rupees for private projects like a five-star hotel at the old West Point School compound, a shopping mall at the Old STNM hospital, a private university at Chakhung and a cancer hospital in Karfectar. All these projects belong to private companies, he said adding that there is no money left for the common people of Sikkim.
"The SKM government is floating minor tenders here and there as an eyewash to distract the unemployed youth. Remember, the rural economy is dead. There is no money in the villages. The thing has come to such a pass that many households and youth have not had any income for the last three and a half years. The people are helpless. Youth want income but they don't have any."
"This cruel SKM government is watching youth fighting over tenders. It is like somebody throwing a piece of meat to hungry wolves and watching while they fight over it. This is an unbearable humiliation for our people. We should not tolerate it. I was shocked to see that a few young ladies were not allowed to enter the office in Jorethang. The Jungle Raj has started in Sikkim," said the SDF president.
Chamling further contended that Sikkim's budget is with the SKM party and not with the Sikkim government. "Please know that Sikkim's economy is totally dead. We will soon realise it," he said warning that the Jorethang incident will not be the last such event.
"Only the people can save Sikkim from this Jungle Raj. I appeal to all to unite against this evil leadership and restore Sikkim's past glory and dignity. Together we can," said Chamling.