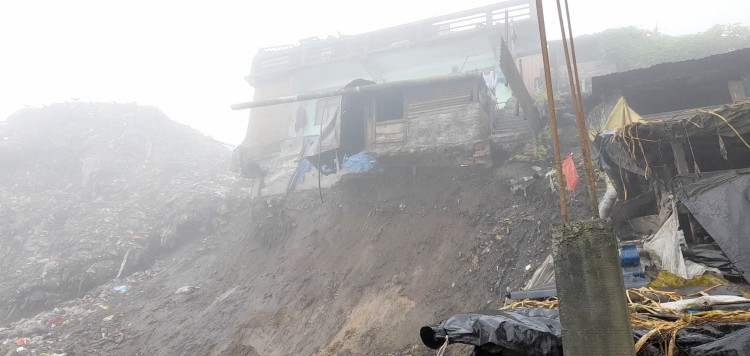 Thursday, Sep 21, 2023 22:45 [IST]
Last Update: Thursday, Sep 21, 2023 17:02 [IST]
Landslide sweeps away 3-storey building in Darjeeling
DARJEELING,: The incessant rainfall on Wednesday night triggered a landslide near the dumping chute in ward no. 17, sweeping away a three-storey house and killing 42 pigs housed on the lower storey.
The landslide, which occurred at around 7 a.m. also affected three more houses in the vicinity.
Nari Sherpa, the owner of the house swept away by the landslide, said, "The whole house has been swept away by the landslide, and I could not save anything. There were about 45 pigs in the ground floor of the house, of which 42 have tragically perished. We used to live on the upper storey of the house. If the incident had occurred at night, our lives would also have been at risk."
Sherpa, who resided in the house with a family of seven, emphasized the dire circumstances they now face.
The ill-fated house was located adjacent to the dumping chute, where the entire municipality's garbage is disposed of. The site is approximately 4 km away from the town.
When questioned about why he built a house near the dumping chute, Sherpa explained, "I had no land, and this land was allocated to me under the BPL house scheme. I constructed the house using bricks and tin sheets. I believe that many houses in these villages are at risk due to landslides."
Sherpa appealed to all political party leaders to come to his aid and that he would be grateful for it while maintaining that he will stay in a rented house for a while now.
Local residents have voiced concerns about the proximity of the dumping chute to the village, asserting that it was a primary factor in causing this calamity. They are advocating for the relocation of the dumping chute, emphasizing the danger it poses to the entire village. One local resident stated, "The garbage dump used to be farther from our village, but over the years, it has encroached closer, causing water to seep into our houses."